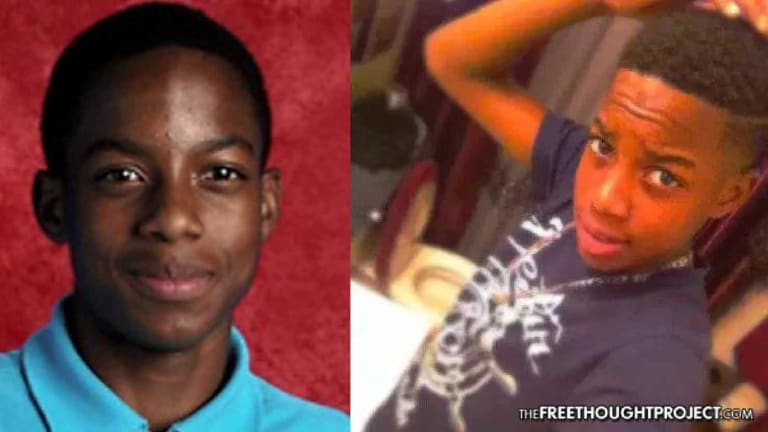 Body Cam Refutes Official Story, Shows Cop Murder Innocent Boy for No Reason
We have now learned that the 'official' statement used to justify police killing Jordan Edwards was shown to be a lie after the chief viewed body cam footage.
Balch Springs, TX — On Saturday night, 15-year-old Jordan Edwards was murdered by a Balch Springs police officer, as a car, in which he was a passenger, drove away from a party. Immediately after police killed him, the chief parrotted his officer's false claim of fearing for his life as the vehicle drove 'aggressively toward him.'
On Monday afternoon, however, after watching the body camera footage, the chief realized he'd spread a lie. So, he did the right thing and told the public the truth — the car was not a threat and was driving away.
Police Chief Jonathan Haber admitted on Monday that the car full of innocent teenagers was driving away from the officer when he raised his AR-15 and shot Jordan Edwards in the head.
"It did not meet our core values," Haber said of the officer's actions.
Based on the extensive reporting the Free Thought Project has done on officers shooting into vehicles, we predicted the original story would probably not be backed up by the body camera footage, yesterday. 
According to Balch Springs police department's original report, they were responding to a party at which underage drinking was allegedly taking place. Police claimed there were reports of intoxicated teenagers moving along the 12300 block of Baron Drive around 11 p.m. Saturday night.
However, as we've now learned, the people who called the police over the party did not know if there was any drinking. Also, when the initial officer entered the house party, they found no evidence of drinking.
As the Dallas News reports: 
Neighbors said there were about 100 teens at the party Saturday night. Dora Daniels, who lives on Baron Drive, said the partygoers were blocking people's driveways and that her son called police to ask them to check out the party because of possible underage drinking.

Daniels said she wasn't sure whether there was alcohol at the party.

When the first officer arrived, kids began to scatter "like ants," Daniels said. A second officer arrived soon after.

Lisa Roberson, who was out of town when her son threw the party without her approval, said a male officer came into the house to talk to her son and to tell partygoers to leave. Roberson said her son told her there was no drinking in the house.
As the kids scattered, neighbors reported hearing three or four shots from what sounded like a pistol or small gun. They then described another two or three shots that sounded like they came from a large gun, possibly a rifle. These were the fatal shots that killed Jordan Edwards.
All the typical smearing and victim shaming of the victim — usually carried out by the department in cases like this one — are ineffective in this tragic case as Jordan was a model kid, athlete, and a straight A student.
"We've heard excuses before in the past: You know why it happens, because the dads aren't present. That excuse isn't here," the family's attorney, Lee Merritt said. "Or the kid was violent. That excuse isn't present here."
"Great kid. Awesome parents. He was not a thug.  This shouldn't happen to him," said Chris Cano, whose son played football with Edwards.
A longtime family friend, Robbin McDonald, told KDFW-TV that Jordan "was a straight A student, I can tell you he was always smiling. I can tell you he was a very, very brilliant and humble and very sweet kid."
His former football coach, Kim Hickman, told KXAS-TV, "I'm hurt devastated, I mean, I love that kid it hit home, when I heard it, it hit home, it's sad."
"The best thing in the world or the worst thing in the world would happen, and he'd smile, and everything would be OK," the coach said. "You create a checklist of everything you would want in a player, a son, a teammate, a friend, and Jordan had all that. He was that kid."
While the Dallas County Sheriff's office has noted they are conducting an investigation, they've yet to release any information. We only know that Jordan's death has been ruled a homicide. As of Tuesday, the DCSO has only released a single statement.
"The investigation will take time and we ask for patience as our investigators diligently work to complete this task," the statement said.
Jordan Edwards parents want more, however. During a press conference on Monday afternoon, Charmaine and Odell Edwards sat there looking down occasionally breaking out in tears. They are asking for the officer — who has yet to even be named — to be arrested and charged. However, this has yet to happen and the officer is currently on paid administrative leave.