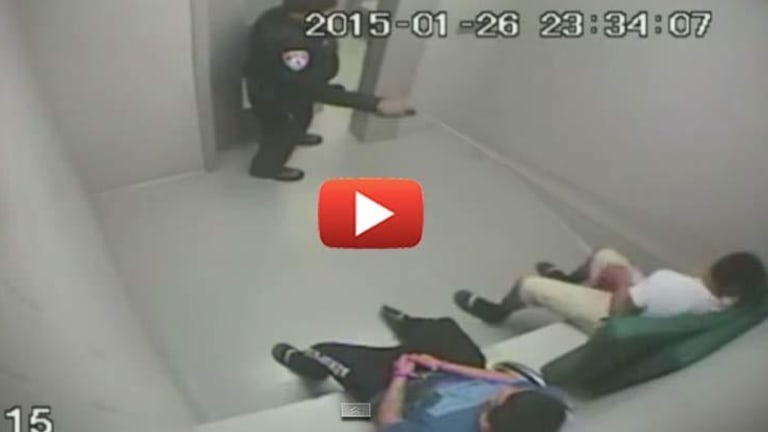 Police Child Abuse: Cop Caught on Video Torturing Handcuffed Teenagers with Pepper Spray
two non-violent and non-resisting teens were pepper-sprayed by a sadistic Alton cop and left with no way to remove it.
Alton, IL-- A state investigation is underway after an infuriating video surfaced online of two seated and handcuffed teenagers inside a holding cell at the Alton Police Department being casually pepper sprayed by Officer Vince Warlick- for seemingly no reason. The juveniles are residents of a local children's home.
This disturbing footage captured a clear case of child abuse, as one of the juveniles is seen writhing in agony. The effects of police-grade mace can take 45 minutes to an hour to wear off, and is excruciatingly painful and frightening even with the ability to attempt to decontaminate. These teenagers were handcuffed and incapable of attempting to remove to burning chemicals from their faces. The teenagers clearly posed no threat to the officer during the assault.
"It was infuriating to me to see an officer coming in and spraying one of these kids, who was handcuffed," said James Gray, president of the Alton NAACP, who released the video, told KTLA.
Chief Jason Simmons was slated to go before the board of Aldermen on Wednesday to determine if he will be reappointed. He knew about the incident since March, yet he allowed officers to take two months to write a report on the incident, which he received May 6. The city council voted not to reappoint him, with 3 in favor of keeping the chief and four against. However, Mayor Brant Walker stated he would not nominate anyone else for the job, therefore allowing Simmons to retain his position.
The incident took place on January 26, shortly after 11:30 pm. It did not publicly surface until the day before the police chief was due to be reappointed, which left him and supporters calling foul.
"He's up for re-appointment, but I do not think he should be reappointed. He has to know about this and, if that happened, how many more things happened that they haven't sent to me?" Gray said.
"Chief Jason Simmons noted that the video was released prior to the completion of an internal investigation, and as such, the result of that investigation is not available at this time," Pfc. Emily Hejna, APD public information officer, said in a statement. "This is a very serious issue and we will investigate it completely. Appropriate disciplinary action will be taken once that investigation is concluded. The Alton police will not be releasing the video as juveniles are shown in the footage. Chief Simmons said, 'I am extremely disappointed that someone would release a video including juveniles to anyone outside of the legal process.'
According to the statement, the investigation, including an "attempt to determine why the final reports were not received until May 6, 2015," will be completed in consultation with the Madison County State's Attorney's Office.
" width="792" height="445" frameborder="0" allowfullscreen="allowfullscreen">