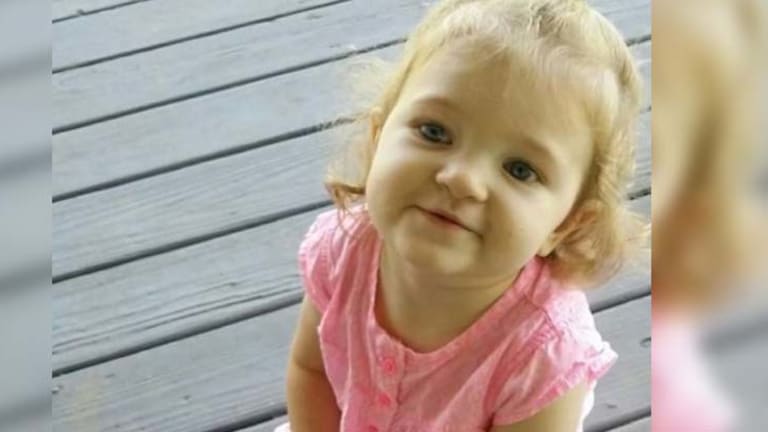 3yo Girl Dies After Being Left in Back of Patrol Car for Hours -- Cops Given Paid Vacation
Two cops are on paid leave while the department investigates the death of Cheyenne Hyer, 3, who died after being left in a patrol car for four hours.
Hancock County, MS -- Two police officers are on paid leave while the department investigates the death of Cheyenne Hyer, 3, who died after being left in a patrol car for four hours.
Amazingly enough, neither of the officers were arrested for the child's death -- as would have been the case had they not had badges.
Glenn Grannon, with the sheriff's department, said Clark Ladner and Cassie Barker were placed on administrative leave after 3-year-old Cheyenne Hyer died Friday. Sheriff Ricky Adam confirmed Barker is Cheyenne's mother, according to WLOX.
According to investigators, Barker was traveling in her patrol car, with her daughter inside, when she stopped at Ladner's home. Leaving the child in the car, Barker stayed inside Ladner's house for around four hours.
According to reports, neighbors were stunned after another police officer found the girl in the car.
"In our small community, it really bothers all of us parents as to something like this. It's devastating," said Kiln resident Betsy Nugent.
According to investigators, Cheyenne had been taken from Barker previously by DHS.
"The autopsy was done this morning and we haven't got the results yet," Hancock County Sheriff Ricky Adam said. "We are looking into some possible previous allegations. It is an active investigation. It hasn't been determined which way we will go, but it doesn't look good. We'll see which way the evidence takes us."
Oddly enough, investigators say the cause of death appears to be overheating, in spite of the fact that police found the car running with the A/C on.
It is highly unlikely that the child would have died from overheating while the A/C was running which could imply that it was turned on after the mother or the police officer found the child in the car. Also, what was Barker doing inside Ladner's home for four hours with her child in the car outside?
While leaving a child in a cool, running car, in their car seat, at a private residence, for a short time is no crime, a four-hour long stint without checking on them is nothing short of negligence -- especially considering the child died as a result.
To not charge Barker for this negligence highlights the special treatment she is receiving because of her status as an officer.
To contrast Barker's case, consider the following. Earlier this year, in a neighboring county,  Joshua Lewis Blunt left his child in a vehicle outside the restaurant where he works. Tragically, his 8-month-old daughter died.
Blunt was not given a paid vacation. Instead he was immediately charged with second-degree murder and held on a $250,000 bond.
However, since Barker is a police officer, Long Beach Police Department, Chief Wayne McDowell said the death is being investigated as an "internal matter with his officers." Must be nice.
In July, in yet another example of privilege granted to those who work for the system, an officer from Rome, New York, was not be charged in the death of his infant son, who perished after being left in inside a hot car for 8 ½ hours.
Officer Mark Fanfarillo left his 4 ½-month-old baby, Michael, in his car during the summer for nearly nine hours — but Oneida County District Attorney Scott McNamara refused to press charges.
The list goes on.
In May 2015, as The Free Thought Project reported, Assistant Public Defender Young Kwon accidentally killed his 16-month-old son in strikingly similar circumstances. In soaring 92-degree heat, Kwon forgot to drop the infant girl at daycare and left her in the oppressively hot car for several hours until a family member inquired about the child. Kwon also rushed to try to save the infant but the heat had already killed her.
In that case, the Sheriff refused to arrest the man, specifically noting he and the man's wife, Assistant State Attorney Wendy Kwon, "routinely" interacted with his department. Unsurprisingly, no charges were filed — and the couple's attorney, a public defender, specifically emphasized the Kwons were "excellent" and "dedicated" parents.
And in another instance of blatant bias, Garland County Circuit Judge Wade Naramore wasn't prosecuted after picking his 2-year-old son Thomas up from daycare and forgetting to bring the child inside his home. Thomas endured four hours in crushing heat before the judge realized the mistake — too late to save his life. Naramore, also, was never arrested and didn't face consequences for neglecting to free the child from the car.
In striking contrast, the same law enforcement department immediately arrested civilian Mandy Wilson for the same neglectful leaving of a child in a car, and charged her with Endangering the Welfare of a Minor.
A couple in Florida left their 11-month-old child in a car in a Walmart parking lot for 39 minutes — when they emerged from the store, waiting police promptly arrested the pair and charged them with neglect.
In Arizona, also in a Walmart parking lot, another woman without a State job was also arrested for leaving her child trapped in a vehicle.
In fact, the list of average, ordinary, non-cop, non-judicial system, non-State employees charged for the exact same leaving of children in impossibly hot vehicles — whether the incidents proved lethal or not — is endless, as can be found with a simple online search.
[author title="" image="https://tftpstagingstg.wpengine.com/wp-content/uploads/2016/03/magorist-e1456948757204.jpg"]Matt Agorist is an honorably discharged veteran of the USMC and former intelligence operator directly tasked by the NSA. This prior experience gives him unique insight into the world of government corruption and the American police state. Agorist has been an independent journalist for over a decade and has been featured on mainstream networks around the world. Agorist is also the Editor at Large at the Free Thought Project. Follow @MattAgorist on Twitter, Steemit, and now on Facebook.[/author]