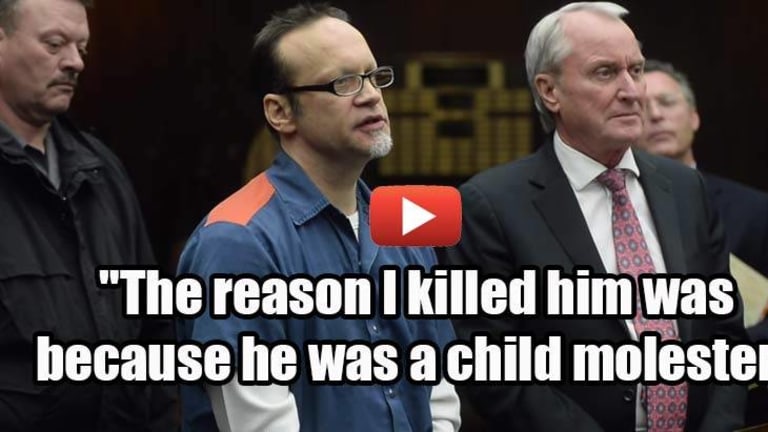 Child Rapist Ex-Cop Killed by Cellmate in Prison for Continually Talking about Raping 9-yo Girl
Was this a case of a rogue murder, or was vigilante justice served?
Saginaw, MI -- In December of 2013, former Muskegon County Airport Police officer, Theodore Dyer, was convicted of first-degree criminal sexual assault on a 9-year-old girl.
Dyer, 66, was sentenced to life in prison for his disgusting crimes, and he had no idea how short that "life sentence" would actually be.
Less than one year after his sentencing, Dyer's life would come to an end in prison. He would be killed by Steven Sandison -- his cellmate.
The 51-year-old Sanderson politely explained to the Chief Circuit Judge, Fred L. Borchard, why he killed this convicted child rapist.
"The reason I killed him was because he was a child molester," Steven D. Sandison said Monday, Feb. 23, in Saginaw County Circuit Court.
He then went on to answer questions from his attorney, James Gust.
"But," Gust then asked, "you did, in fact, kill him?"
"Oh, sure," Sandison said. "Oh, sure, of course."
Borchard later in the hearing asked Sandison how he killed the 67-year-old Dyer.
"If it's all right," Sandison replied, "I can tell you where it started."
"Go ahead," Borchard said.
Sandison said he found out that Dyer, a Grand Haven native, was in prison for a "really bad case" of child molestation.
"That night," Sandison said, "he was trying to justify why he did it, and I told him to keep quiet and that he'd have to leave in the morning, find a new cell. But he continued to talk about it, try to justify it. So, he was a little bit bigger than me, so I got down, and I hit him in his face a few times. When he fell, I wrapped a cord around his neck and I took his life."
Sandison is already serving a sentence of life without parole for a murder in 1991. He is currently lodged at the Ionia Correctional Facility and his sentencing is set to happen on April 8.
What are your thoughts on this incident? Was justice served?