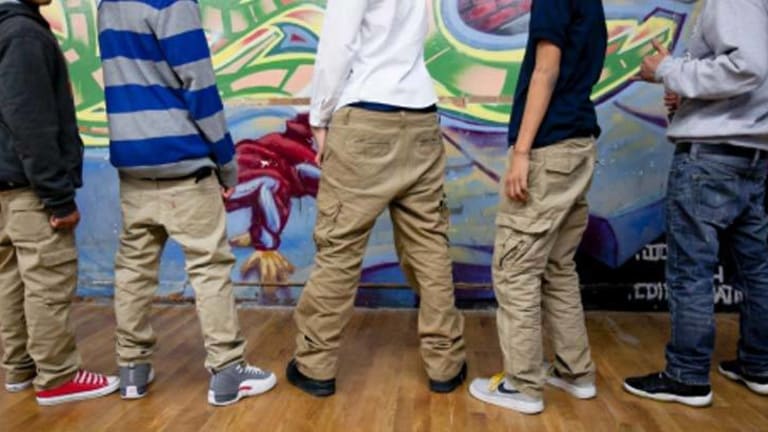 Two Children Arrested and Thrown in Jail for Wearing Saggy Pants at School, No Kidding
A school policy violation ended with two children being arrested and locked in jail. Welcome to the prison state.
Bolivar, TN -- On Monday, two children were released from the Hardeman County jail after being locked in a cage over the weekend for their choice of attire.
In a shocking and secretive ruling last week, two seniors at Bolivar Central High School were sentenced to two days behind bars for merely violating the school's dress code.
In early November, a school resource officer, in an effort to protect the world from the horrors of sagging pants, charged two students with indecent exposure.
Officer Willie Hoyle said he had warned the students several times that the pants they were wearing were inappropriate for school, according to court documents.
Hoyle claimed that his actions were noble as the older seniors were setting a poor example for the younger children and their future attire choices.
"Because the environment is already bad, and it ain't gonna get any better if the older kids don't try to show the younger kids anything," he told WREG.
The school does have a policy which states, "pants must be worn and fitted to the waistline" and "low slung, baggy seat, baggy legged or bell-bottom pants are not permitted." However, both the Bolivar Sheriff's Office and the Hardeman County School Board are remaining silent on how a school policy violation ended in jail time for two children.
"You do got to be presentable at school. But, doing 48 hours! Ain't nobody doing that," said one man interviewed by WREG.
"Maybe we have them do some community service, pick up some trash, help at the dog kennels, things like that," said Sharon Till. "I think putting them in jail is just a little bit much."
The precedent being set here by the Bolivar Sheriff's Office and the Hardeman County School Board is an incredibly dangerous one. While violating school policy should result in the students being disciplined, the act of using the force of the state to lock them in a cage for two days, crosses lines that previously only existed in the most dystopian of fictions.
Luckily the two high school children were not killed while they were in prison. Ervin Leon Edwards, of West Baton Rouge, Louisiana wasn't so lucky when he was caged by state dress code enforcers.
In November of 2013, Edwards was being harassed by Port Allen police for his saggy pants. Only hours later, he would be lying face down in a jail cell, dead. His entire gruesome stay in the West Baton Rouge jail was captured on multiple surveillance videos.
In the Land of the Free, you can be kidnapped, caged, and even killed for wearing your pants in a manner not approved by the state - and they call this liberty and justice for all.