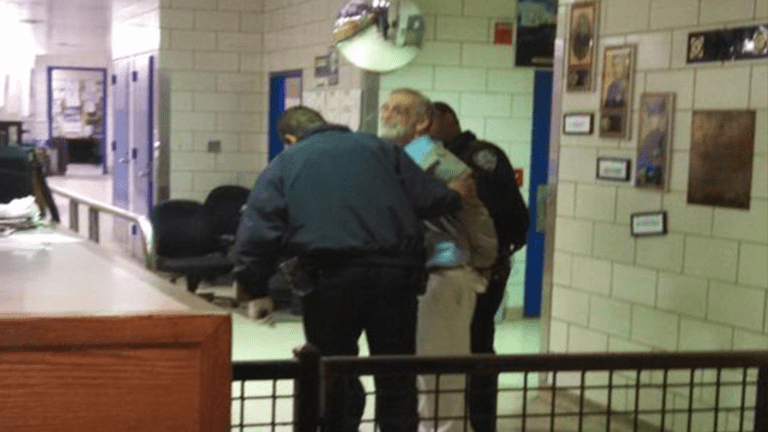 Former CIA Agent Brutalized and Arrested by NYPD For Trying to Enter an Event He Paid to Attend
"I have a ticket," screamed McGovern just before screaming in agony as he's dragged off to jail by the NYPD for doing absolutely nothing wrong.
New York, NY -- Ray McGovern is a retired CIA analyst who chaired the National Intelligence Estimates and prepared the President's Daily Brief.
He received the Intelligence Commendation Medal at his retirement. He has since become an outspoken antiwar and anti-police state activist and returned the medal in 2006 in protest to the CIA's involvement in torture.
McGovern is also a veteran of the Vietnam war which adds to his already high level of credibility in speaking out against the system.
Former CIA director David Petraeus was scheduled to fear monger  speak about the terrorist threats that we should all be cowering in fear over at an Upper East Side Community Center on Thursday. 
Ray McGovern was present ahead of the speech to participate in the open discussion and ask questions about US war crimes.
According to witnesses he never made it inside and was brutally detained, "yelling in pain" as he was arrested by NYPD.
McGovern was a ticketed attendee of the event but according to anti-war group 'The World Can't Wait' McGovern was prevented by security from entering, charged with criminal trespass and disorderly conduct. He is still in police custody and will not be arraigned until Friday. According to Russia Today, independent journalist and filmmaker Cat Watters was due to film McGovern during the talk, asking a question of Petraeus, but as she arrived she saw McGovern being arrested by police, telling them "I have a ticket!" Watters told RT that McGovern has a shoulder injury and was apparently yelling in pain during the arrest.

"He [Ray] doesn't cause a ruckus. He asks questions. He stands up and turns his back," Watters described the protesters' plan.
The World Can't Wait' has called for McGovern's release on Twitter and Facebook.
This is not the first time McGovern has been detained for attending an event which he paid to attend. In 2011, he was dragged out of the ironically titled "Freedom Speech" given at George Washington University, for simply turning his back on the almighty Hilary Clinton.