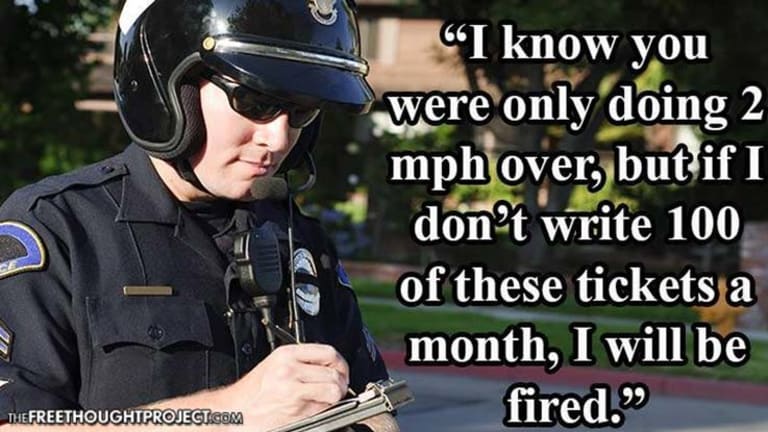 Write "Two Citations Per Hour" — Florida Cops Busted in Massive Quota Scheme
A leaked email exposed a top Florida cop's email requiring that his officers maintain a quota of two citations every hour of every day.
Tallahassee, FL — Most people reading this article know what it is like to have the blue and red lights pop up in your rearview mirror. The last thing going through your mind at this point is the feeling of 'being protected.' This feeling comes from the fact that the overwhelming majority of the time a driver sees police lights in their mirror is because they have been targeted for revenue collection, and they are about to be given a ticket.
Police, we are told, are here to keep us safe and protect us from the bad guys. However, public safety all too often takes a back seat to revenue collection. Time and time again, the Free Thought Project has exposed quota schemes in which officers were punished for not writing enough tickets.
The most recent ticket writing scheme to be exposed comes out of Tallahassee, Florida, in which a top Florida Highway Patrol official was caught demanding his troopers write two tickets every single hour.
But fret not people of Tallahassee, after Maj. Mark Welch of Troop H in Tallahassee was exposed for demanding "the patrol wants to see two citations each hour," the major put everyone's minds at ease by explaining that his quota was not a quota.
"This is not a quota; it is what we are asking you to do to support this important initiative," Welch noted in an attempt to white wash the fact that he is de facto forcing a quota.
As the Miami Herald noted, that initiative is SOAR, or the Statewide Overtime Action Response program, paid for by taxpayers. State troopers, who are among the lowest-paid in the country, can make extra money working high-traffic areas, such as I-10. Part of the job is to deter speeders.
Not only are cops told that they must target two citizens an hour for revenue collection but the taxpayers are forced to finance their own extortion and harassment.
In Welch's July 28 email, obtained by the Herald/Times, he noted that highway patrol officers recently got 5 percent raises, thanks to the Legislature and Gov. Rick Scott, "which has also increased your overtime rate." North Florida troopers are writing an average of 1.3 tickets per hour in the SOAR program. Welch said that that's not good enough, "so we have a goal to reach."
Requiring a minimum number of citations forces conflict and potentially hostile interactions.
It truly forces police officers to create criminals out of otherwise innocent people in order to generate revenue, or they face losing their jobs or other forms of punishment like no vacation or overtime. This is why systems which demand cops write a certain number of tickets are illegal across the country. However, as this instance illustrates, cops couldn't care less about the illegal nature of their quota schemes.
Sen Jeff Brandes, R-St. Petersburg is in charge of the FHP's budget. Brandes told the Miami Herald that Welch has no authority to tell troopers to write more tickets, nor does the FHP have any business doing so.
"That goes against everything the Florida Highway Patrol should be doing," said Brandes. "FHP is about safety. It's not about meeting quotas."
Naturally, however, in spite of the Major employing a de facto quota, other top cops are coming to his defense.
"It's like a want," Lt. Col. Mike Thomas, a three-decade veteran of the patrol said. "We're just trying to promote our guys getting out, making the stops, having contact with the public, educating them, and we do have discretion. No one has ever taken discretion away from a patrol officer."
However, that discretion was discouraged in Welch's email. The FHP is allowed to write warnings for drivers — instead of issuing a promissory note of extortion. But Welch doesn't want that at all.
"The only way to try to alter that behavior is by impacting the motorist with the sanctions surrounding a traffic citation," he wrote.
Surprisingly, however, William Smith, a veteran highway patrolman and president of the FHP chapter of the Florida Police Benevolent Association, was not so quick to defend Welch.
"Two tickets per hour? That's a quota. That's a violation of state statute, period. No ifs, ands or buts," Smith said.
As the Miami Herald reports:
In Miami-Dade, troopers who met ticket-writing goals for March were given a weekend off with pay in an April memo.

"Sergeants, please get with these members and schedule their weekend pass," the memo said.

That's illegal, too, Smith said.

Thomas said FHP checked out the memo and found no wrongdoing, "but they withdrew that practice," he said.
The total number of people who receive speeding tickets only, is 41,000,000 a year with an average cost of $152.00 each. That is 1 in every 5 licensed drivers in the US.
The total number of speeding tickets paid each year is $6,232,000,000, which breaks down to around $300,000 generated per police officer for speeding alone. Tack on seat belt violations, license plate lights, window tint, rolling stop signs, and expired state-mandated stickers and that number skyrockets.
Unfortunately, the police officers who see these quota schemes as a problem are in the minority. And, those caught implementing these systems are almost never held accountable. Luckily, for the citizens of Tallahassee, this quota system was exposed and brought to a halt. However, one can rest assured that in towns across America, similar systems are in place which are separating citizens from their hard earned money as you read this article.