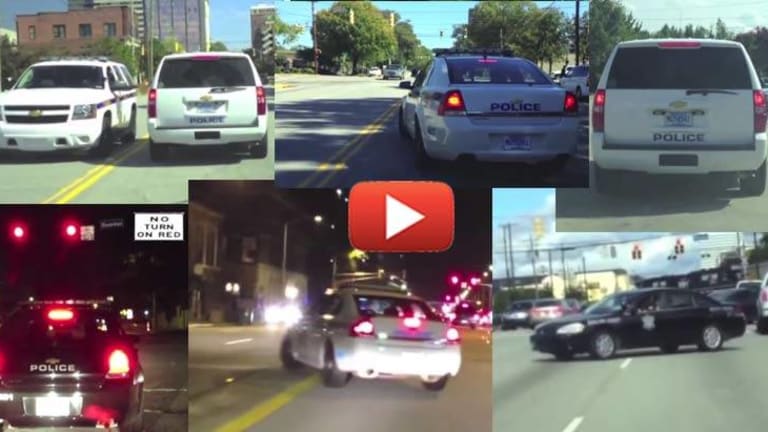 One Man's Private Dashcam Catches Dozens of South Carolina's Worst Drivers -- They're All Cops
A recently released Youtube video shows police getting away with reckless driving that would earn any other citizen expensive tickets.
Columbia, South Carolina - YouTube content creator HaloMasterMind117 recently compiled three years worth of dash-cam footage, from his own personal dash-cam, showing police blatantly breaking traffic laws. In some clips, it shows officers in near accidents, which would have obviously been their fault.
In the description for his video, HaloMasterMind117 said that:
So is this going to be a controversial video? I don't know. I'm not trying to deride any one person; I am just pointing things out. I believe that most of the maneuvers in this video were done unintentionally, and none of them were done maliciously, but it's still something ordinary people would get expensive tickets for doing. I understand that police are "exempt" from traffic laws under certain criteria, but after analyzing SC Code 56-5-970, I conclude that none of these maneuvers were legal under the law.

I'm not saying all police are bad. After all, after over three years of dashcam footage, I was only able to make a 5 minute "bad cop" video, whereas I have 163 "bad driver" videos at this point. But you guys asked for the video :) Anyway, I hope you enjoy!
He even took the time to document the specific departments that were shown in the video:
City of Columbia Police Department
University of South Carolina Police Department
Richland County Sheriff's Office
Lexington County Sheriff's Office
South Carolina Highway Patrol
South Carolina Public Safety Police
Benedict College Police
Because they believe they are above the law, police constantly break traffic laws, making them some of the worst drivers on the road.
Check out the full video below:

Below is another video that gives a glimpse into the mindset of some officers and how they view themselves as "above the law."
John Vibes is an author, researcher and investigative journalist who takes a special interest in the counter culture and the drug war. In addition to his writing and activist work he organizes a number of large events including the Free Your Mind Conference, which features top caliber speakers and whistle-blowers from all over the world. You can contact him and stay connected to his work at his Facebook page. You can find his 65 chapter Book entitled "Alchemy of the Timeless Renaissance" at bookpatch.com.