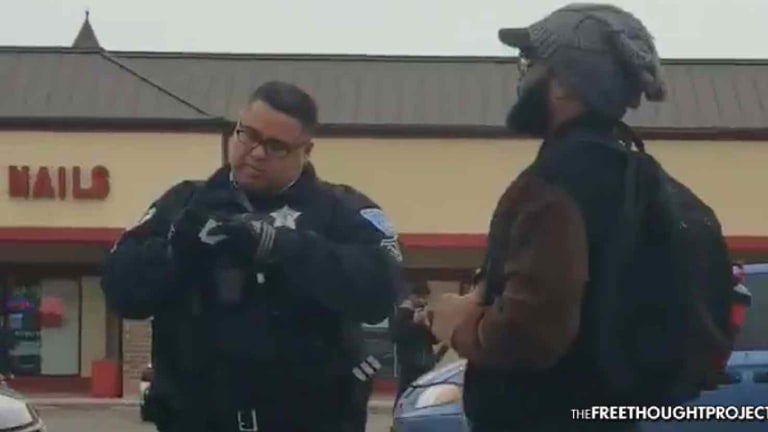 WATCH: Citizen Steps in to Defend Innocent Man Being Harassed by Cops for 'Walking While Black'
A man filming a police encounter accused officers of confronting an innocent man for "walking while black" when they stopped him out of nowhere and demanded to see the contents of his backpack.
Chicago – A man pulled over to record a police encounter after he watched an officer stop abruptly in traffic and confront a man who appeared to be walking down the street and minding his own business. The officer claimed he stopped the man because the color of his skin and his hat fit the description of a robbery suspect.
Bryan Urióstegui shared two videos on Facebook from an incident that occurred on South Cicero Avenue in Chicago on Monday. He said he was driving and decided to stop and document a police encounter when he saw an officer approaching a Black man who was walking on the sidewalk, listening to music on his headphones.
"Driving down S Cicero Ave we see this cop bust a U-turn and stop this black man who was just walking down the street jamming out. I felt the need to record and have his back," Urióstegui wrote."Unfortunately my gut was right because the only thing this man was guilty of was WWB (Walking While Black). The cop even says 'I don't know if you were there or not' but still asks him for ID and to open his backpack. A clear violation of his rights. I hate that this STILL is a reality for people of color."
On the video, an officer can be seen standing right in front of a Black man on the sidewalk, demanding to see his driver's license. "This dude was literally just walking and this cop literally did a U-turn in the middle of traffic to stop this guy," Urióstegui said as he watched and recorded the scene from inside his vehicle.
The man appeared to be complying as the officer looked at his license and asked him questions. A second patrol car then arrived at the scene.
"That's what happens when you walk while black," a female voice can be heard saying on the video.
"Right. Walking while black," Urióstegui agreed.
The officer then asked the man if he could search his backpack, and Urióstegui yelled, "You don't have to open up your book bag for them! You don't have to do anything … ask them for a warrant, sir!"
The man proceeded to open his bag to show the officer that there was nothing illegal inside of it and he commented, "You just see a Black man walking down the street."
"Y'all are some bogus ass people. Y'all are bogus. Look at this fucker" Urióstegui said as he turned the camera to show a second officer who had arrived and was watching the incident unfold.
The officers then decided to let the man go and he walked over to the car where Urióstegui was filming and claimed that he had initially been helping a girl who said she was locked out of a building.
"I was just walking and I saw a girl who was locked out and she was on the roof and I was just trying to help her," the man said.
The man claimed the officer approached him and told him that he fit the description of a shoplifting suspect who was reported by a nearby Walgreens. The man insisted that there was no way he could have come from the Walgreens and he said the officer told him, "Oh, well you fit the description."
When the man asked the officer what the description of the suspect was, the officer simply said, "Black man, dark hat," and gave no explanation for why he insisted on scrutinizing the man's license or demanding to see the contents of his backpack.