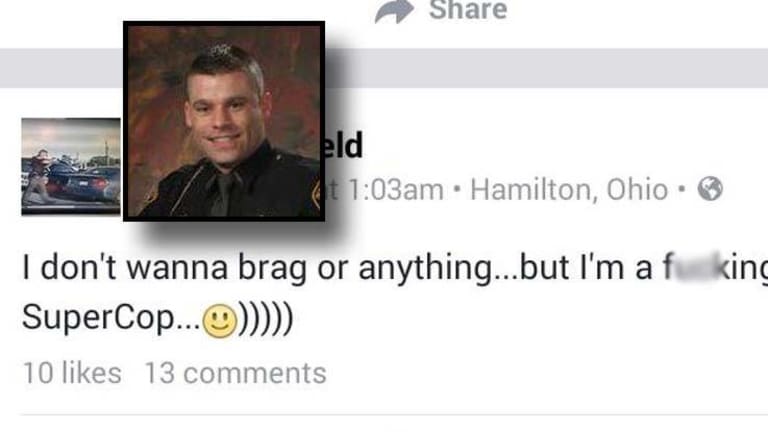 Exclusive -- Self-Declared "Supercop" Not So Super After Diligent Citizen Fought Him Back and Won
One Ohio man fought back when his rights were violated, and he won.
Hamilton, OH -- Kevin Gray volunteered to be a designated driver for a friend, only to end the evening in handcuffs and facing unwarranted felony charges. His only "offense" was to attract the attention of Butler County, Ohio Sheriff's Deputy Jasen Hatfield, who had been characterized by Butler County Prosecutor Michael T. Gmoser as a "rogue," a liar, a felon, and a huge civil liability for the department.
Following an expensive 14-month ordeal, Gray prevailed in court on February 9. Originally facing four offenses (two of them felonies), Gray was acquitted of all charges except for a misdemeanor -- "failure to notify" an officer about a licensed handgun in the glove compartment of his vehicle – that was added by the prosecutor's office several months after the December 13, 2014, traffic stop.
"The trial judge told me, `Look, I have to fine you something,'" Gray informed The Free Thought Project. After issuing a $100 fine, District Judge William Wulff "ordered that my firearm be returned to me immediately," Gray observes, describing the judge's demeanor as apologetic.
While it's very likely that Gray would win an appeal, his attorney said that "by the time the case got before an appellate judge, my record will have been expunged." A better use of his time and resources might be to prepare a civil action against Butler County to address the pervasive corruption revealed during the criminal trial.
"This experience has been costly, time-consuming, and exhausting, but we may be able to help people who have been abused by the sheriff's office and the county," Gray declares.
Meeting "Supercop"
"I don't want to brag or anything … but I'm a f**king SuperCop," gloated Deputy Hatfield in a January 19, 2013, Facebook chat. "It is pretty kick ass that I wear a bullet proof vest and gun with me to work …. Just sayin [sic]."
"SuperCop" was lurking outside Big Leagues bar in Hamilton, Ohio on December 13, 2014, eager to exploit any pretext for a traffic stop. In fact, the more questionable the stop, the more dubious the citation, and the more lucrative it would be for Hatfield.
Owing to a provision in the Butler County collective bargaining agreement (see section 46.04), each court appearance arising from a citation is an opportunity to reap a financial bonus, including overtime hours. Recently divorced and facing stiff child support payments, Hatfield had abundant reasons to exploit the county's ticket-writing racket.
Whatever the specific blend of motivations, Hatfield began to stalk Gray as he drove away from the bar with his friend, Christopher Ebbing, in the front passenger's seat.
"The cop vehicle started following us after I made a legal U-turn a short distance from Big Leagues," Gray recalled to The Free Thought Project. "After he activated his lights, I pulled over at the next well-lit, safe location," which was the parking lot of a Zip Trip service station.
Rather than walking over to the driver's side of the vehicle to ask for Gray's license and registration, Deputy Hatfield went directly to the passenger side, "yanked open the door, and demanded identification from my passenger," Gray continued. "I leaned over and told him that I had a conceal carry license and that there was an unloaded handgun in the glove compartment. He replied by telling me to shut up and to keep my hands on the [expletive] steering wheel."
Standing firmly on his rights, Ebbing demanded to know what crime he was suspected of committing. Hatfield snarled that he hadn't been wearing a seat belt, and then reached into the vehicle to drag Ebbing out.
"After throwing him to the ground, Hatfield gets on the radio and says that he has a suspect who's resisting – and here comes the cavalry," Gray related, weary resignation coloring his voice. Gray was already in handcuffs and en route to the jail before being informed that he had been charged with two felonies – operating a vehicle while intoxicated and "improper handling of a firearm."
Gray was not intoxicated, and had not been given a sobriety test of any kind. Ebbing had not been publicly intoxicated, and had called Gray to act as his designated driver. Nonetheless, Ebbing was eventually forced to plead guilty to a charge of "resisting and obstructing" and spend twenty days in jail.
The "Rap" Evolves
The initial pretext charge filed by "SuperCop" against Gray was that he had made an "improper turn." That violation was quickly disposed of once it was established that he had executed a perfectly legal U-turn. Despite the absence of a breath test or field sobriety test, the prosecutor's office demanded that Gray plead out to a misdemeanor OVI (Operating a Vehicle while Inxoticated) charge in exchange for dropping the felony charges. When he rejected that proposed deal, Gray was offered one in which he would plead guilty to misdemeanor "improper handling" of a firearm.
"Plead to what?" he recalled in exasperation. "I didn't do anything wrong, and I'd be damned if I let them bend me over."
Despite the clear and obvious fact that the charges against Gray were devoid of merit, assistant Butler County Attorney Brad Burress obtained an indictment in March 2015. In addition to the charges filed by Deputy Hatfield, Burress added a misdemeanor "failure to notify" charge. After being arrested without cause or explanation, Gray had supposedly violated the law by not informing Deputy Mike Brockman, the officer who arrested him, about the unloaded handgun in the glove compartment – despite the fact that he had informed Hatfield within seconds of the traffic stop.
"SuperCop": Liar, Rogue, Liability
The eagerness of the Butler County Prosecutor's Office to pursue Hatfield's charges against Gray is remarkable, given that the officer is an acknowledged liability to the county.
"Recently it was brought to my attention by two of my assistant prosecutors that Deputy Jason Hatfield was deficient in his understanding of the U.S Constitution concerning permissible searches and Ohio law concerning obstruction of justice," wrote Butler County Prosecutor Gmoser in an angry letter to Sheriff Richard Jones last July 6. After one of "SuperCop's" cases was no-billed because of his misconduct, Gmoser was made aware of a "fact pattern" visible in Hatfield's cases; in other words, he is a habitual violator of the law.
"To my surprise, the deputy stated to me that no one raised any concerns about his conduct and he did receive a stern warning from me concerning the civil liability that could attach to you and him from impermissible searches and pretext arrests," wrote the county prosecutor. "Regrettably, Deputy Hatfield has chosen the path of defiance. Not long after his case was no-billed I received information [indicating] … that his superiors, including you, see nothing wrong with his conduct…."
"As a result," continued the Gmoser, "this matter has gone from the need for simple remedial education of a zealous deputy to consideration of criminal conduct by a rogue deputy. Offenses that may apply if the allegations are true are theft in office and a pattern of corrupt activity – a second degree felony." (Emphasis added.)
An official reprimand by a superior documented at least one instance in which Hatfield stole contraband following a traffic stop.
During a September 7, 2013 traffic stop for a suspected OVI, Hatfield confiscated from driver Robert Van Skaik a plastic bag containing marijuana. Rather than reporting the contraband and turning it over to the property room to be inventoried and then destroyed, Hatfield kept and "discarded" it.
This resulted in an official letter of reprimand from Lieutenant John Sons for violating department regulations regarding "Rules of Conduct," "Obedience to Rules," and the handling of "Property and Evidence."
"Continued conduct of this nature cannot and will not be tolerated" and could result in "more severe action against you up to and including termination," concluded Lt. Sons.
Witness Intimidation
Neither the reprimand nor the warning caused "Supercop" to reform his ways – and the absence of tangible discipline apparently encouraged Hatfield to give rein to his bullying impulses.
Last June 21st, an off-duty Hatfield and a handful of hangers-on saw Ebbing at Big Leagues bar.
"Mr Ebbing went to the bar and was approached by Deputy Hatfield and friends," narrates an official report filed by Butler County Deputy Joe Fuller. "One of them asked Mr. Ebbing for ID. When Mr. Ebbing refused, Deputy Hatfield threatened to arrest him for DUS [Driving Under Suspension]. Deputy Hatfield also said something along the lines of arresting Mr. Ebbing next time he was on duty. One of the subjects with Deputy Hatfield poked his finger into Mr. Ebbing's chest."
Six months later, following another perfunctory reprimand, Hatfield was given another opportunity to bully Ebbing, but this time he displayed a touch of subtlety. Last December 13, Ebbing and Gray went to Major Leagues and saw Hatfield in the room in the company of several friends. Hatfield left the room, and one of his companions – subsequently identified as John Hatfield, "SuperCop's" brother -- approached Gray, "firmly poking me" in order to get his attention.
"It was blatantly obvious that he was `baiting' Mr, Ebbing and myself into a physical altercation," wrote Gray in a formal complaint to Butler County Sheriff Jones. "He stated to me, `You must be the pussy that was with him, you're next.'" Gray told the pest "to never touch me again," and an employee of the bar ordered him to leave.
"I will have Butler County deputies sit on this f**king place every single day once you take ownership" John Hatfield bellowed, continuing to threaten "the use of law enforcement to harass, charge, and arrest us as he left the building," continued Gray's complaint.
Since Hatfield's brother displayed intimate knowledge of the charges against both Ebbing and Gray, this incident appeared to be "nothing short of witness intimidation," Gray pointed out. As someone who has "multiple family members who are Law Enforcement Officers … I cannot fathom the decision to physically threaten, and threaten by means of their agency … an individual they have arrested."
One possible explanation for this otherwise inexplicable incident, Gray suggested, would be that it was an attempt "to taint my trial" by provoking an altercation, thereby allowing Deputy Hatfield to claim "that I was involved in an assault with a member of his family. To be seen as culpable in assaulting a family member of my arresting officer, prior to trial, seems like a brilliant way to fight the reputation that Deputy Hatfield has," concluded Gray.
Pervasive Corruption
Hatfield and his comrades knew they were riding a weak case against Gray, but owing to the financial benefits accruing to them from courtroom overtime, this probably didn't bother them. The prosecutor's office, which had described Hatfield as a liar, a legal ignoramus, and a potential felon, continued to run interference for the rogue deputy – and now may find itself dealing with a class-action suit as a result.
In at least two official letters in response to discovery requests by Gray's defense attorney, Jeff Meadows, the attorney for the BCSO insisted that no video recordings of the December 2014 traffic stop existed. Assistant Butler County prosecutor David Kash offered similar categorical assurances.
"About half-way through the first day of the trial, we found out that there was a videotape," Gray related to The Free Thought Project. "By this time three deputies had already testified that there was no video, because it was against BCSO policy to make dashcam or body camera recordings. But it turns out that Deputy Brockman kept all of the tapes in his basement, and at some point he handed over the tape from the traffic stop to Hatfield."
On the morning of the trial's second day, deputies Brockman and Hatfield reviewed the video, along with deputy prosecutor Kash and defense attorney Meadows.
"There was about four and a half minutes of video, then snow," Gray recalled. "Brockman insisted that this was the entire record."
A few hours later, when Brockman was on the stand, Meadows insisted on playing the entire tape.
"Shortly before the video cuts out, you can see the car shake, and it's pretty clear that the officer killed the camera," Gray continues. "After about a six-minute gap, the video resumes – which means that all of the evidence from the traffic stop was apparently erased."
At this point, "Jeff [the defense attorney] pointedly asked Brockman, `Do you understand the penalty for perjury? Why did you lie to me upstairs?'"
"I wasn't under oath then," Brockman simpered, unwittingly acknowledging that lying appears to be his default behavior.
That response must have caused a collective shoulder-slump on the part of the numerous high-ranking deputies who were attending the trial. The deputies who testified – Jasen Hatfield, Mike Brockman, and Bill Brown – have, in the aggregate, dozens of years of service with the BCSO. Brockman has been with that department for 32 years – and the casual corruption he displayed in this case testifies eloquently about its corrupt practices and patterns of abuse.
"There was a lot of `brass' who were sitting in the courtroom," Gray states. "This was obviously more than an ordinary OVI case to them. And now they may have a huge mess on their hands, because of the revelations about routine concealment, misplacement, and destruction of evidence in OVI traffic stops and similar cases. Anybody who has taken a plea deal on a charge of that kind over the past dozen years or so now has grounds to challenge his conviction, and perhaps join in a civil rights suit against the county."
If this happens, and Butler County taxpayers discover the costs associated with tolerating a corrupt sheriff's office, Sheriff Jones won't have the luxury of pretending that he wasn't warned about the "civil liability" that "SuperCop" Hatfield represented. It's quite likely that Jones will have reason to lament that he didn't give Hatfield an opportunity follow the "Gypsy Cop" ratline to a job in a different jurisdiction.