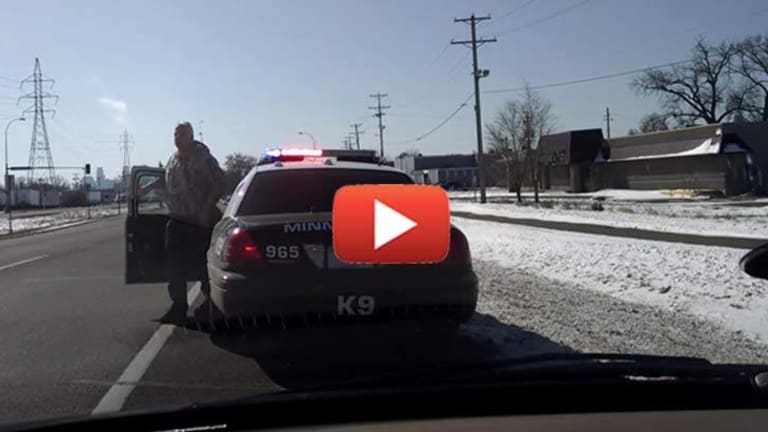 Citizen Pulls Over Off-Duty Cop for Speeding, Cop Says he Can Speed Because, "I'm the Police"
A gutsy Minnesotan pulled an MPD officer over after he blew by him with no lights on. Everyone learns something.
Minneapolis, MN -- A series of YouTube videos was brought to the attention of the Free Thought Project which shows a vigilante citizen pulling over a Minneapolis police officer for driving at excessive speeds.
The citizen, who goes by the name Travis, witnessed the officer drive by him at a high rate of speed. So, he turned on his camera and decided to document the hypocrisy.
In the first video, Travis documents the officer driving 20 mph over the posted speed limit.
Travis then continues to follow the officer and documents his speed as they move through different speed zones.
At this point, Travis explains, the officer's wife gets the car to stop.
I followed the officer for about 4+ miles while his wife (at least he said it was his wife) was equally speeding. At the end, she nearly cut him off and I thought she was doing the same thing I was... Trying to get him to SLOW DOWN! Once he realized I was following him, he just got out of his car and that is what you see.
The video below is that officer's reaction to being pulled over. Upon stopping the officer, who refused to give his name, was very aggressive as he walked toward Travis' car.
"You got a problem?" asks the officer.
"Yes I do," says Travis. "You were driving 56 miles per hour in a 40 mile per hour zone without any warning lights. That's completely unsafe."
"Is it? I'm the police," says the officer implying that he is above the law and not subject to the same laws as the average citizen.
This officer did not have his lights on, nor was he responding to a call. In fact, he admitted the car that was also speeding along next to him belonged to his wife.
During the exchange, the officer's belligerence level decreases, presumably because he had a camera in his face. He eventually responds to the third request for his badge number.
Travis explains that all he wanted was the officer to acknowledge that he is not above the law and to admit he made a mistake. But this never happened.
As the two men part ways, Travis pulls past the officer's wife, who seemed less than enthused as she appeared to have yelled, 'Fuck off,' as he drives on.
Travis explains on his YouTube channel that he tried multiple times to file a complaint, but it was to no avail. Travis said:
I called the police to try and file a formal complaint and both times got transferred multiple times until they hung up on me. I have that recorded (and told them the call was recorded) as well. Police require we "pay" them money when they do wrong. While I don't expect this police officer to pay me $145 for catching his 20+ mph speeding violation (or there abouts), I do expect an acknowledgement that he was doing wrong and an apology.