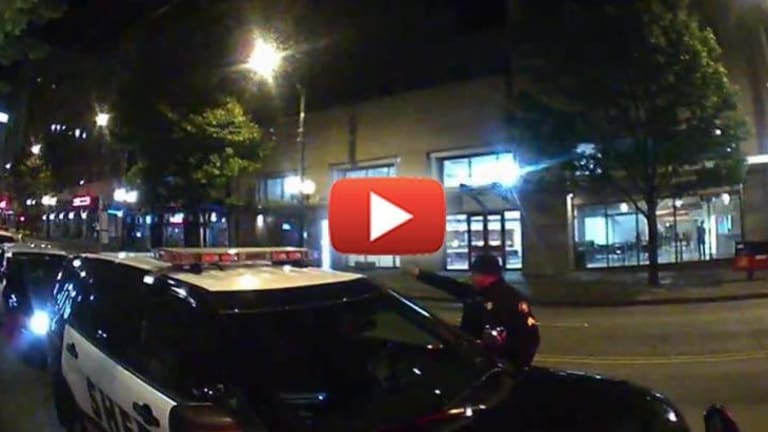 Citizen's Private Body Cam Protects him from Cops Who Lied to Get him in Trouble
Two Washington cops face termination after they filed a complaint against a man, whose private body camera showed they were lying.
King County, WA -- City bus driver, Kelvin Kirkpatrick purchased a set of glasses that take HD video as a means of feeling safe in the event the Metro Security cameras on his bus failed. However, these camera glasses would prove to be incredibly valuable in an entire other sense.
Kirkpatrick was becoming frustrated with the lack of security provided by two King County sheriff's deputies assigned to the protection of busses on the Metro Transit squad.
In the early-morning hours of November 14, Kirkpatrick confronted the officers in a completely cordial manner to voice his concern over the lack of their efforts to provide adequate security.
During the exchange, Kirkpatrick certainly raised his tone a bit, but he never screamed or became aggressive. However, according to Sgt. Lou Caballero and Deputy Amy Shoblom, Kirkpatrick became angry and yelled profanities at the officers.
After the exchange, Kirkpatrick returns to his bus, but Caballero had other intentions; he would file a complaint against Kirkpatrick. Caballero and Shoblom both alleged, in formal statements against the bus driver, the he yelled profanities at them.
According to Caballero's complaint, Kirkpatrick yelled and said, "You got three (expletive) deputies out here that don't do nothing." Shoblom also wrote in a separate report, at Caballero's request, that she heard Kirkpatrick yell and use profanity.
When he learned of the complaint against him, which would have ruined his 20-year career, Kirkpatrick took his video to the sheriff's department.
"They came after me," said Kirkpatrick.
"It's really sickening," he said. "My family and I have gone through a lot."
When he showed the video to the Sheriff's investigator, it showed him saying, "I'm not yelling at you, sergeant. I'm not yelling at you. I'm expressing how frustrated I am at the fact that I got three deputies that don't do anything when I need help."
There was no swearing at all in the video which exposed Caballero and Shoblom as liars.
In a ridiculous manner, the officers completely denied the authenticity of the video.
"I am a man of integrity and I did not and DO NOT lie," Caballero wrote as he questioned the authenticity of the video.
"This false accusation is both offensive and outrageous," Shoblom wrote, asserting there was "no evidence" the video "is the original."
After being caught in their lies, the two deputies now face the possibility of termination for dishonesty. Sheriff John Urquhart said Wednesday he will decide next week whether to uphold recommendations to fire the deputies.
This incident highlights the importance of filming police. Here, we have what seemed like a fleeting exchange with cops, actually evolve into cops lying to ruin the career of an innocent man. Had this not been caught on video, it would have been Kirkpatrick's word against these two lying cops -- and we know who the other cops would have believed.