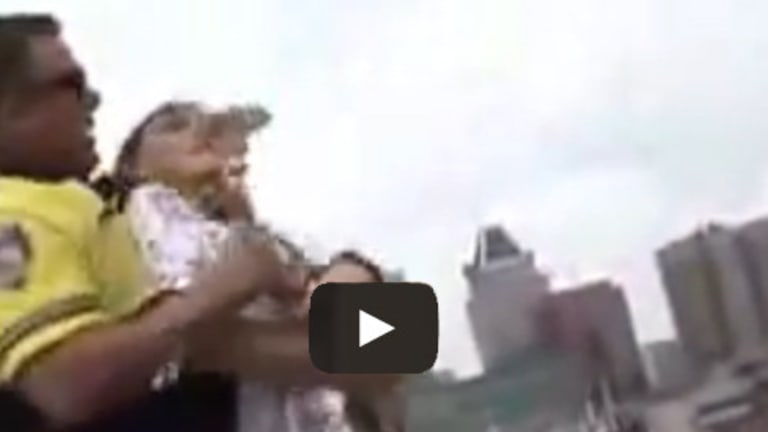 City Took 5 Years to Fire a Cop Who Assaulted a 14 Year Old Boy on Video
April 11. 2014
Filming police is one of the few ways to prove abuse of police power. Back in the summer of 2007, a police officer named Salvatore Rivieri in Baltimore decided to use his position to harass some skateboarding kids in Baltimore's Inner Harbor area.
As part of his harassment, he took one kid's skateboard after throwing him to the ground and screaming at him. The whole thing was videotaped by another kid... and it was uploaded to YouTube a few months later:

At the very end, you hear the officer starting to ask if he's being filmed -- and notes "if I find myself on...." Given his earlier harangue, it sure sounds like he's about to warn the other kids about putting the video online, though we don't know exactly what was said. Either way, the video went online (eventually, months after the incident) and it got quite a lot of attention.
As a result of the massive publicity storm from the video going up online, Rivieri was suspended (with pay) a few days after the video went up in early 2008. More than two years later, a disciplinary panel cleared Rivieri of the most serious charges ("using excessive and unnecessary force" and "uttering discourtesies") but guilty of failing to file a report about the incident or provide the kid with a "contact receipt." The board recommended a short suspension. Instead, the police commissioner fired Rivieri, arguing that "his ability to interact effectively with the citizens of Baltimore has been seriously compromised."
What an overbearing introduction to the jackboot mentality at 14 years old.
5 years after the situation between him and Officer Salvatore Rivieri at the Inner Harbor, The memory & emotion was still fresh in Eric Bush's mind. Listen to him speak about the incident below, in which he mentions other cops harassing him because of the way this one cop treated him.
[audio mp3="https://tftpstagingstg.wpengine.com/wp-content/uploads/2014/04/original.mp3"][/audio]