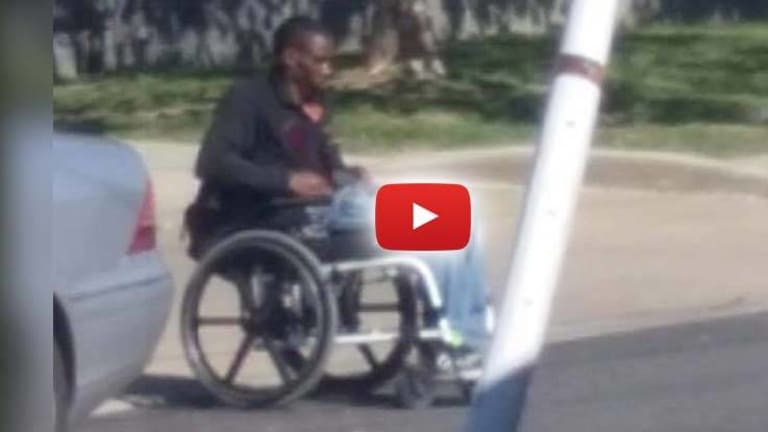 City Outraged After Watching Cops Kill a Man in a Wheelchair on Video and Escape Charges
In spite of the graphic video evidence showing them gun down a man in a wheelchair, officers will face no punishment.
Wilmington, DE -- A community is "angry" over an attorney general's decision refusing to prosecute the officers involved in the killing of a man in a wheelchair last year.
The victim, 28-year-old Jeremy McDole was killed last September while sitting in his wheelchair on the city's west side.
Some black community leaders and residents were outraged by the outcome of the eight-month investigation led by the Delaware Department of Justice, which took the unusual step of singling out Senior Cpl. Joseph Dellose for "extraordinarily poor police work" during the incident. Dellose fired at McDole with a shotgun approximately two seconds after initially ordering him to put his hands up, the report found, creating uncertainty among other officers who, not knowing where the gunfire came from, also turned their weapons on McDole, reports Delaware Online.
The decision not to prosecute comes in spite of the report from Attorney General Matt Denn's office which said Dellose should not be employed by the city police in any role where he would carry a firearm in public.
"Now that it (the investigation) is complete, and we have come to this conclusion, I don't know that I can tell our communities to remain calm," said the Rev. Donald Morton, executive director of the Complexities of Color Coalition. "There is only so much a community of people can take."
Last September, police responded to a 9-1-1 call about a man in a wheelchair who was allegedly suffering from a self-inflicted gunshot wound. Upon arriving on the scene, police officers immediately escalated the situation and within seconds the man was killed, according to witnesses.
McDole was repeatedly told by police to "show your hands," but he did not immediately respond. The first officer fired a single shot at him with a shotgun and appeared to strike McDole in the chest.
From what we can see in the video, it does not appear that McDole was pointing a weapon at officers. He was merely moving his hands back and forth when police let loose on him a second time, unleashing a frenzy of gunfire.
According to eye-witnesses and family members on the scene, McDole did not have a weapon. However, in a statement from police, they claimed to have found a .38 caliber pistol in his underwear. The report also said the McDole had gunpowder residue on his hands.
In the transcript of the 911 call released in the report, the dispatcher is heard saying: "They're going to take him out." The person who called 911 responded: "Oh my Jesus, don't kill him!"
McDole's family claimed that the 911 caller fabricated the story about McDole shooting himself to cover up a robbery she and another man had committed, a claim not substantiated by the report.
"I couldn't see his hands, he kept moving around his waist. At that point, I felt I was in danger, my life was in danger if he picked up that gun and started shooting. He could shoot the other officers, he could shoot me, and bystanders," the 11-year-veteran of the Wilmington police department told the investigator according to the report.
When family members and friends gathered to mourn the loss McDole, his uncle, Eugene Smith called the shooting "an execution."
"That's what it was. I don't care if he was black, white, whatever," Smith added. "I didn't see no gun. He had a book bag, but I never seen a gun."
Below is the graphic cellphone footage from that fateful day. What do you think, were these officers justified in their actions?
After finding out that the officers would escape punishment for killing their son, the family released the following statement:
"Our family disagrees with the conclusions of the report not to charge any officer with a crime which seems to reflect the historic fact that we believe that no police officer in Delaware has ever been charged with a crime for the fatal use of force on a civilian," the statement reads. "Blacks also suffer three times the death rate of whites at the hands of police nationwide. But this is not reflected in the report.

"Jeremy was paralyzed and he could not run or hide. ... Due either to their poor training or their lack of qualifications to be police officers licensed to use deadly force to kill, the shots fired that day were unnecessary. The tactical response reflected deliberate indifference to the life of Jeremy."
In an interview with Delaware Online, a neighbor of McDole's, who identified herself only as Cheryl, said, "It is not like he could run anywhere and to be shot that many times is just ridiculous. That is Delaware for you. It is just how the state is. It is not the first time a cop got away with shooting someone that didn't do anything. It probably won't be the last."