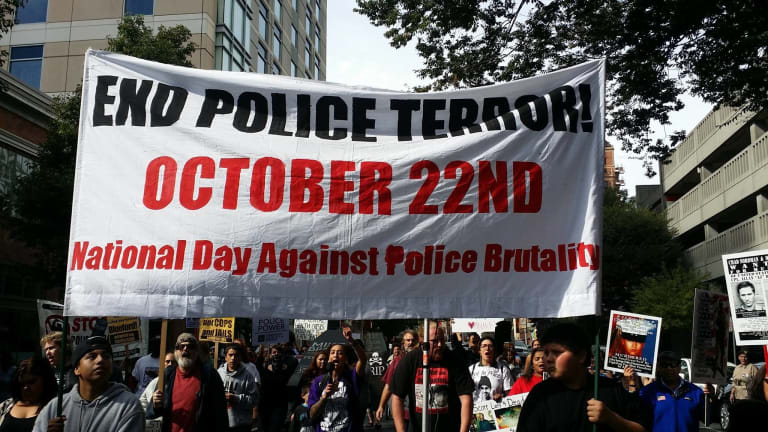 Coast to Coast Protests Nationwide this Week for National Day Against Police Brutality
"Indict, convict, send them killer cops to jail, the whole damn system is guilty as hell."
Wednesday marked the 19th anniversary of the day of action against mass incarceration, solitary confinement, and police brutality.
From New York to Los Angeles, hundreds gathered in over 50 cities to demand an end to the abuse. Actions included many tactics from standard marches, projections onto police stations, to highway shutdowns.
Traditionally this even has been organized by RevCom, front group for the Revolutionary Communist Party.
As of late they have been heavily criticized for co-opting marches, not allowing family and community members from areas they parachute into to speak at demonstrations, and raising money for their organization at inappropriate times (such as at a fundraiser for the funeral of LAPD victim, Ezell Ford), many cities split off into separate actions and demonstrations.
Others put aside differences for the day and stood together in solidarity.
The Free Thought Project was on the ground in Sacramento, where former LAPD officer turned whistle-blower, Alex Salazar spoke on police murder being a sport for officers, and the importance of supporting whistle-blowers.
David Whitt and Jacob Crawford of We Cop Watch also spoke on Ferguson.
Some highlights from around the country:
Highway shutdown in Atlanta-
A light projection on a police department in San Diego-

Enraged family members spoke out in Salinas-
Protestors in NYC shut down Times Square-

Kansas City brought the Police a coffin-
According to RT, relatives of other local victims were also present in New York City, including Nicholas Heyward, whose son was shot by an officer mistaking his toy gun for a real one 20 years ago, and mother Hawa Bah, whose son was shot inside of his apartment in 2012.
Ultimately, Nicholas Heyward said that in order to end police misconduct and reduce excessive force, people will have to look beyond politicians and apply pressure themselves.
"There is no one else we can rely on to put an end to this," he said, "except us."