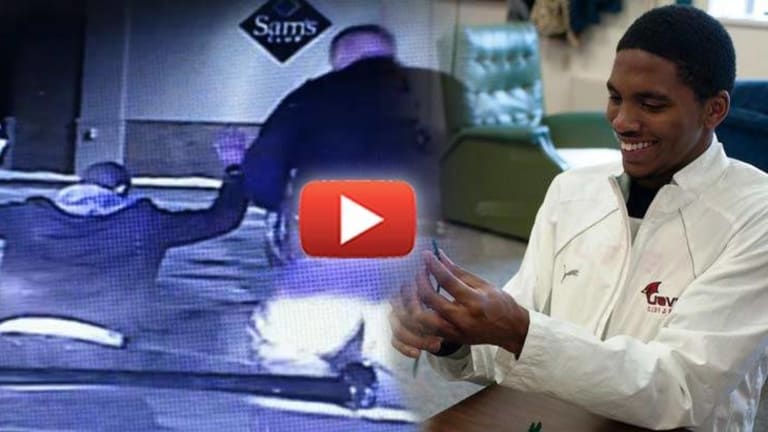 College Student Charged with Felony for Waiting to Pull Over in Well-Lit Area, He Committed No Crime
Because of a defunct legal system, hell bent on keeping its 98% conviction rate, this masters student could have his entire education flushed down the toilet, for what?
Kochville Township, MI -- DaJuawn Wallace was on a late night drug store run to get medicine for his sick girlfriend when he was targeted for a traffic stop.
Saginaw Valley State University Police Officer Leon Wilson had seen a car driving on the sidewalk on the SVSU campus earlier that night. Despite not knowing the make nor the model of the car, Wilson decided to pull over Wallace, citing that he "fit the description."
"I was uncertain about the make and the model of the vehicle, but this vehicle looked like the same color and was leaving the immediate area," Wilson wrote.
As Wilson turned on his lights to pull Wallace over, Wallace decided that it would be far safer to wait to pull over until he was in a well-lit area.
"I live in Detroit, and I know some people who were robbed by fake police officers," Wallace said. "I was taught to find a well-lit area to pull over in."
In fact, Detroit police have even gone on record and said that you have permission not to stop if you don't believe a real cop is trying to pull you over.
Besides the risk of the cop being fake, there is also the danger of the cop simply being a cop. Just south of Kochville, in Inkster, Michigan, 57-year-old Floyd Dent was pulled over on a dark road, in March of this year. He was subsequently beaten, framed and charged with multiple counts including resisting arrest, assault on an officer, and fleeing police. Dashcam video eventually proved his innocence.
Wallace had driven an extra 1.5 miles after the initial turning on of Wilson's police lights. He never once accelerated, nor did he turn off his lights, try to turn, or make any attempt at all to evade Wilson. He did, however, signal Wilson with his hand from out of the window, suggesting that he would be pulling over ahead.
Dashcam video shows exactly that.
Wilson reported that after he had turned flashing lights at the intersection of Bay and Liberty, Wallace continued southbound at about 35 miles per hour as he approached Kochville Road, according to MLive.
"The driver made no attempt to pull over and stop. I observed the driver stick his hands out of the window a couple of times. I did not see the driver throw anything from the vehicle, though it was dark and the road was poorly lit," Wilson wrote backing up Wallace's account and assertion that the road was dark and poorly lit.
When Wallace finally stopped in the parking lot of a Sam's Club, Wilson demanded he get out with his hands up. Wallace was arrested and charged with felony fleeing and eluding. He had committed no other crime.
"I feel that if I was an older individual, it wouldn't have been a problem," Wallace said. "I feel like if I was of a different sex, they would've probably thought that I was just trying to find somewhere safe to pull into."
Perhaps it was just this individual officer's overreaction to Wallace's decision to find a well-lit area to pull over. The prosecutor would certainly see the erroneous nature of charging a man for a felony who simply tried to keep himself safe during a traffic stop, right? Wrong.
Saginaw County Chief Prosecutor Christopher Boyd unapologetically explained that Wallace should have immediately curtseyed to the officer.
"You don't get a driver's license and get to pick what rules you are going to follow and what rules you are not going to follow," Boyd said.
The prosecutor's office then issued Wallace a plea deal, saying that if pleaded guilty the misdemeanor charge of fleeing and eluding, that they would drop the felony charge.
Wallace, who is resolute in the fact that he did nothing wrong, rejected the offer to plead guilty to a "crime" he did not commit.
"Most people will say fine, thank you for not sending me to jail. Well, that will be detrimental to me," said Wallace. "If I had to take a plea for a felony, I would be forced to resign my job, and I wouldn't be able to get financial aid, and I wouldn't be able to do anything with my degree. Even still with the misdemeanor."
On Thursday, Wallace has his preliminary examination. If he again refuses to accept the plea deal, District Judge Terry Clark will determine if there is enough evidence to bring the case to trial.
Wallace is in a master's program at SVSU for health administration and has a May 2016 graduation date. Because of a defunct legal system, hell bent on keeping its 98% conviction rate, Wallace could have his entire education flushed down the toilet if he's convicted. In the meantime, however, a cop can admit to raping a toddler and avoid jail altogether.