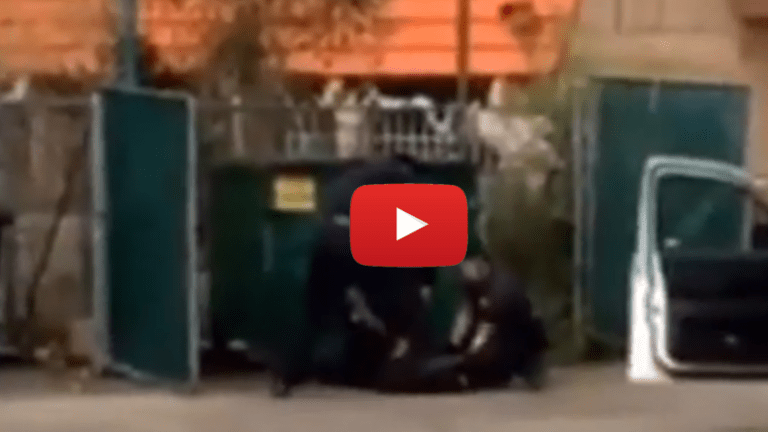 Excessive Force? Three Cops, One with a Boot on his Head, Hold Down and Taser a 60 Year Old Man
"You probably have over 700, 800 pounds of police force there, and there's a 60-year-old man there that probably weighs a buck-fifty, and you've got to pull the taser out to take him down? I just don't think it was right"
The Lakeside Police Department in Colorado is facing scrutiny and backlash after a video of three officers man handling and tasing a 60 year old alleged shop lifter was uploaded online.
The incident took place on Friday, after the suspect had fled a Walmart he is accused of stealing from and hid behind a dumpster across the street.
Pete Ortega, the witness who recorded the incident, believes the officers used excessive force when he saw two officers pin the senior citizen down on the ground and a third rush over and step on his face before tasing him.
"The cop that just pulled up steps on top of his head and shoots him with a taser in a matter of a second," Ortega told CBS Denver.
"You probably have over 700, 800 pounds of police force there, and there's a 60-year-old man there that probably weighs a buck-fifty, and you've got to pull the taser out to take him down? I just don't think it was right," Ortega also noted.
The department is standing by their actions and issued an unapologetic statement that reads in part,
"He refused to comply with officers' request to get down, pulled his arms under him, and a struggle ensued.... He was tased and eventually complied (and) was placed into custody."
While tasers are considered "less lethal" it is important to note that these are still weapons, and they can cause serious injury and death.
A peer reviewed study published in 2012 by the American Heart Association stated,
"ECD stimulation can cause cardiac electric capture and provoke cardiac arrest resulting from ventricular tachycardia/ventricular fibrillation. After prolonged ventricular tachycardia/ventricular fibrillation without resuscitation, asystole develops."
Electronic Village, who has been tracking deaths caused by police tasing in the United States reports that there has been 630 deaths since 2001.
While this incident thankfully did not turn deadly, the police have no way of knowing the condition of their victims hearts, or whether or not they will survive. Should officers be allowed to use weapons that may cause death in non threatening situations simply to assert their power? We think not.