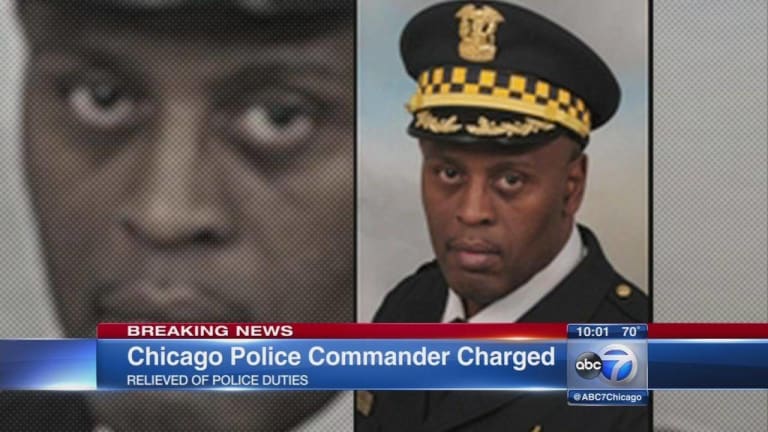 Commander Shoves Gun in Suspects Mouth, Taser in his Groin- Released Without Bond
Commander Glenn Evans of the Chicago Police Department, and 28-year department veteran, was released without having to post bond on Wednesday, despite being charged with two felonies.
Evans is charged with official misconduct and aggravated battery after prosecutors allege he put a gun deep in a suspect's mouth as he was restrained, held a taser to his groin, and threatened to kill him. The incident occured on Jan. 30, 2013, yet the officer was just stripped of hid badge and gun on Wednesday morning.
Read full PDF of allegations here
Evans is now working desk duty at police headquarters, and a dozen officers reportedly stood in during his bail hearing.
Police reports indicate the incident began when Evans saw his alleged victim, Rickey J. Williams, holding a handgun in the street. No weapon was recovered. Williams was arrested for reckless conduct, but the charges were later dropped, according to the Sun Times.
The Sun Times also reports that dozens of citizen complaints have been filed against Evans over the past two decades, yet only two complaints have resulted in discipline.
The Chicago Tribune reports that at least nine excessive-force complaints were filed against Evans between 2001 and 2008 alone, and while he cost the city tens of thousands in payouts, he was not disciplined for any.
This is not the first time he has been accused of using a suspects genitals as a taser target.
In another lawsuit, Cordell Simmons alleges in June of 2007, he was approached at gunpoint by CPD officers who frisked him for drugs and then banged his head on the hood of the squad car before taking him into custody.
At the station, Evans, according to the police report, they believed Cordell was "not cooperating." Police stripped Cordell of his pants and shoes and as three other officers held him down, Evans proceeded to taser Cordell in the groin, rectum, and right arm.
The lawsuit was settled outside of court, Sun Times reported.