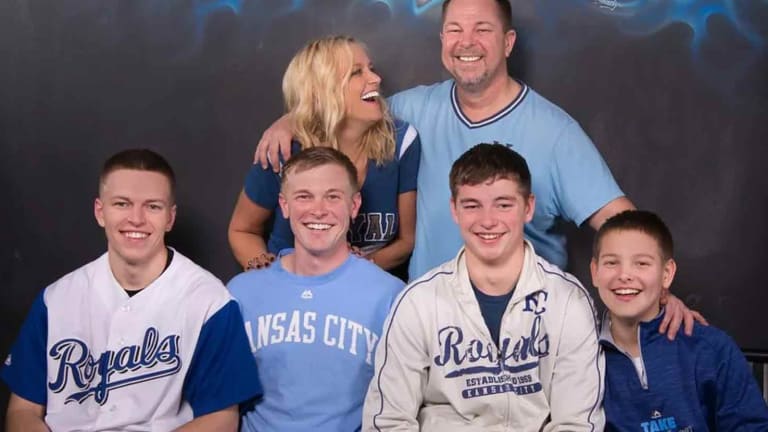 Community Horrified as Cops Kill Upstanding, Unarmed Citizen Traveling to Spiritual Retreat
An unarmed man, beloved by his community, was shot and killed by a federal officer who approached his vehicle after he was in a car accident.
Community members are horrified and searching for answers after a beloved citizen of Hutchinson, Kansas, was shot and killed by a federal officer while traveling to a spiritual retreat.
Tyler Miller, 51, was driving on a curvy, mountain road in the Coconino National Forest in Arizona when he lost control of his pickup truck and hit a large rock, according to a report from KWCH News. However, the details regarding what happened between the time Miller crashed and the time a federal officer opened fire on him, are still largely unknown.
Attorney Matt Bretz confirmed that the Miller family is still awaiting more information from the FBI, which is currently investigating the shooting:
"He was on his way to a spiritual retreat north of Sedona. The road is a bit curvy. He lost control of the vehicle, went off the road and hit a large rock, and then it becomes rather vague as to what happened, and the FBI hasn't been able to tell us or hasn't told us yet. At some point after the collision, Mr. Miller exited his vehicle, and was shot by a forest ranger." 
The Sedona Red Rock News reported that the shooting occurred around 4:15 p.m. on Jan. 5, and the U.S. Forest Service employee involved was female. The FBI was called to investigate the shooting because it happened on federal land.
A statement from the FBI's Phoenix office claimed that a U.S. Forest Service officer "stopped to help" Miller after he was involved in a wreck. However, the agency did not include details about what occurred when the officer approached Miller, how long the encounter lasted, or why it turned deadly.
The FBI did admit that Miller was not armed, and it claimed that all that is known about the incident right now is that after Miller "got out of his crashed vehicle a U.S. Forest Service officer shot [Miller] near the scene of the accident."
The agency has also given conflicting reports concerning the status of the officer who killed Miller. While the initial report stated that "a Forest Service law enforcement officer who was involved in the shooting was not injured," an update to the original story from KWCH claimed that "the officer was also wounded in a subsequent altercation."
The FBI has not said if the officer who shot Miller was wearing a Body Cam, and it has not indicated whether the Dash Cam footage from the incident will be released. The agency has confirmed that it will turn the case over to the U.S. Attorney's Office to determine if the officer will face charges.
Bretz told Fox 10 Phoenix that Miller was "a kind, hard-working businessman, and was married to his high school sweetheart for 28 years." His wife and four sons are now left searching for answers about what led up to his tragic death.
"If you were to ask about what is most memorable characteristic is, most people would say his smile," Bretz said. "For the family trying to understand what happened, it's just unimaginable."
The Hutchinson News described Tyler Miller as "everyone's best friend" in a heartfelt tribute that told the story of his impact on his community. In addition to owning several businesses in the town, Miller also influenced the lives of the people around him by giving them a second chance.
"He trusted people. He gave jobs to people everybody else had turned their backs on. Ty would give them a hand up and a chance," said Christine Throckmorton, who has worked for Miller for eight years.
Beau Erhardt, a bondsman who worked for Miller's company, told the Hutchinson News that he will be remembered as a man who would have done anything for his family.
"Above all, he was a family guy, and he thought the world of his wife and sons," Erhardt said. "He never missed his sons' ball game or wrestling match. Because he was very centered around family, so he wanted to know his friends' families."
Erhardt said Miller was generous to both his employees and to other members of the community. One week ago, he was ordering lunch at Chick-fil-A when he decided to pay for the meals of the people in line behind him. "Ironically, they were police officers," Erhardt said.