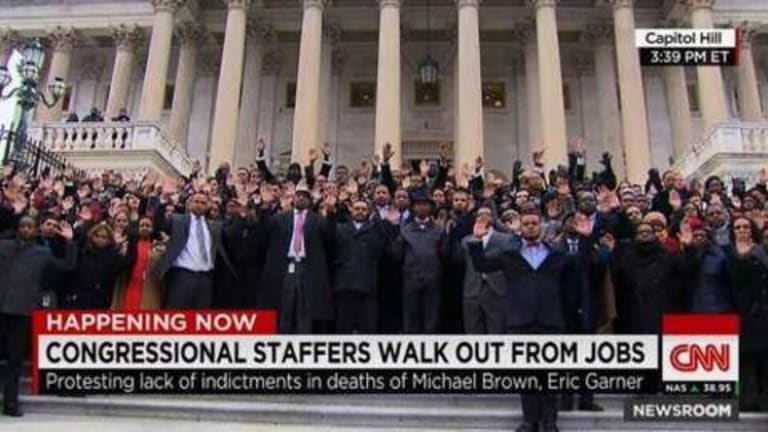 Congressional Staffers Walk Out From Jobs to Protest the Recent Lack of Indictments of Killer Cops
Washington D.C. -- On Thursday afternoon congressional staffers planned a walk out to protest the recent lack of indictments in the Eric Garner and Michael Brown grand jury decisions.
The powerful image is quickly going viral as it portrays dozens of staffers raising their hands in the air to invoke Brown's "hands up, don't shoot" image.
The grand jury's decision not to indict Officer Daniel Pantaleo last week has reignited protests from coast to coast. From sports stars to Hollywood figure heads, people are standing up to these injustices.
This decision seems to have set off a backlash from an otherwise once silent crowd. Even congressional members expressed their distaste with the decision.
"The decision by a grand jury not to indict in the death of Eric Garner is a miscarriage of justice. It's an outrage, it's a disgrace, it's a blow to our democracy and it should shock the conscience of every single American who cares about justice and fair play," said Rep. Hakeem Jeffries in a press conference Wednesday. He was not alone in his stance either. Every member of this U.S. congressional delegation voiced their disgust during this press conference.