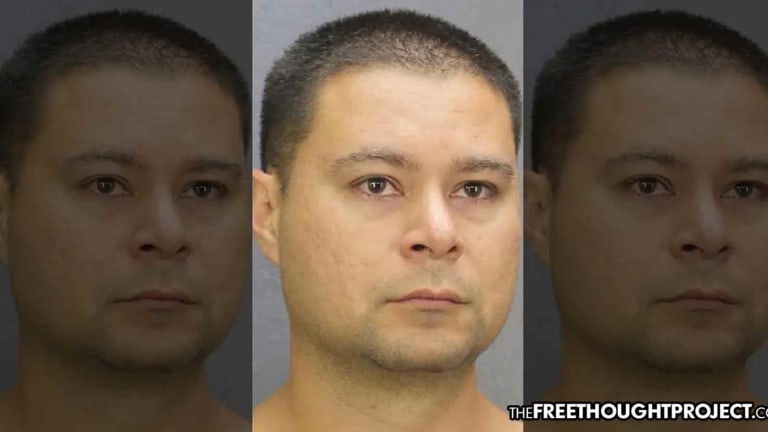 Cop Gets 10 Years for Pulling Over Teen Couple, Forcing Them to Strip Naked, Solicited Sex Act
A sicko cop has been sentenced to 10 years in prison after he pulled over a teen couple, led them to a remote area and forced them to strip naked.
Fort Lauderdale, FL — Teenagers Kyle Shoulta and his then-girlfriend Remy Riley were on their way to a concert back in 2016 when they were pulled over by a Miccosukee Police officer. This would not be your average police extortion and what unfolded next has just landed disgraced officer Michael Martinez in prison for the next 10 years.
On that fateful night on August 5, 2016, Shoulta and Riley were travelling to a concert and had marijuana and alcohol in their car. Officer Martinez accused the couple of rolling a stop sign and pulled them over.
During the stop, Martinez found the booze and marijuana and knew he had these kids in the palm of his hand. Instead of arresting them, Martinez told the couple to follow him out to a remote area where, he would offer them a deal to avoid jail.
As evidence of their extortion, Shoulta filmed the drive to the remote area before Martinez acted out his sick desires. "If you want to avoid jail, you must strip naked and run," Martinez told the couple, according to court documents.
"I was given a choice of go to jail or run, so I took the choice to run naked," Shoulta said on the witness stand during the trial.
Shoulta explained to the courtroom that he stripped naked and ran first and during that time, Martinez solicited a sex act. The details of that act are not immediately clear.
"I took my pants off. I took my shirt off," Riley said. "I kind of looked at him like, 'Is this enough?' He's like, 'That's it?' I turned around from them. I turned away. I took my underwear off. I took my bra off. I ran in the opposite direction holding myself. I ran back in the opposite direction holding myself. While I'm in the middle of holding myself, he's kind of like, 'Move your hands away from your body so I can see.'"
"That is not what I wanted to do. I felt like I had no choice," Riley said on the stand as she fought back tears, according to WSVN. "At 18 years old, I don't feel like you should know what to do. I felt like that was his job."
The testimony from the teens was enough to convict Martinez in 2019. He was found guilty of extortion and was facing the possibility of 60 years in prison.
"This case is a testament to the courage of the victims," said prosecutor Justin McCormack. "If not for their bravery reporting the incident and coming back to Broward County to testify, the defendant could still victimize others and could continue to tarnish the badge."
However, he served no jail and immediately appealed it as the judge allowed him out on bail. It would take another two years for Martinez to be sentenced — again.
At his sentencing hearing this week, Shoulta showed up once again to face his abuser.
"One of the victims actually made his way down here today, because he wanted to see this to get some sort of sense of closure," prosecutor Chris Killoran said.
Shoulta, now in his 20s, sat across from Martinez and detailed the events once more for the court.
Following the testimony, Martinez was sentenced to 10 years and led directly to prison in handcuffs — where it is now his turn to strip naked in front of other officers.