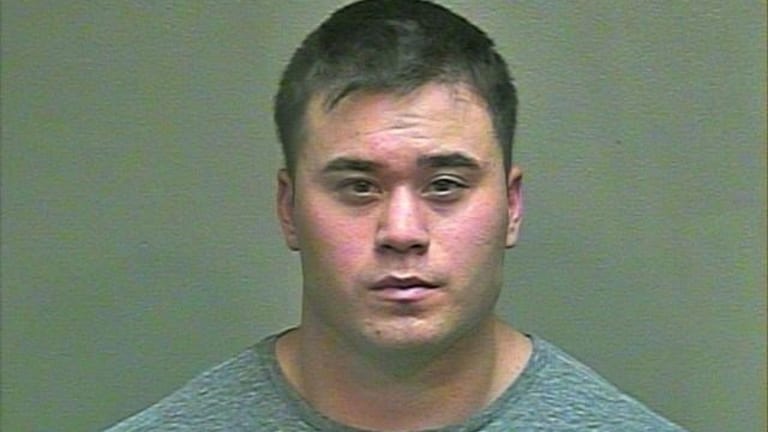 Cop Accused of Beating, Raping Women While on Duty, Raising Funds While on Paid Leave
Daniel Holtzclaw, an Oklahoma City police officer, is out on bail and on paid leave, after his arraignment hearing on Wednesday. Bond was reduced from $5 million to $500,000 after his attorney requested it be reduced to $139,000.
The officer was arrested on August 21 on four counts each of sexual battery, indecent exposure, and oral sodomy; two counts of rape; and one count each of burglary and stalking. The 16 charges against Holtzclaw's stem from alleged assaults on eight women that took place while on duty. The charges state that he would threaten the women with arrest if they refused to comply.
If this alleged predator being on paid vacation and out on bail wasn't unsettling enough, he is also getting an outpouring of support on social media. A GoFundMe campaign had raised over $7,000 for the disgraced officer before being shut down over complaints.
It is unclear why GoFundMe chose to pull the plug on this campaign, and not the campaign for the murderer of Mike Brown. It is a bit strange that raising reward money for a murderer is just fine, but rape is where they draw the line.
The Holtzclaw family posted to the Justice for Daniel Holtzclaw Facebook page letting everyone know the funds were secure prior to the campaign being closed.
"Dear friends, family and supporters,

Yesterday we were informed, without explanation or advanced warning that "GOFUNDME" the web based campaign fund raising site has dropped us from their business.

Rest assured that the money that has been collected for Daniel's defense is secure and we are currently exploring other options to use in order to aid in Daniel's legal fees and bail. As soon as we have secured another business or organization who will sponsor us, we will let you know.

Holtzclaw Family"
According to an unofficial study by the Cato Institute's National Police Misconduct Reporting Project, sexual misconduct is the second highest of all complaints nationwide against police officers, representing 9.3 percent in 2010. In 2010, 354 of the 618 complaints involved nonconsensual sexual acts, and over half of those involved where minors.
Just like with other forms of brutality it's hard to find numbers and statistics for sexual assaults by police; yet another reason we should be demanding a database for police misconduct.