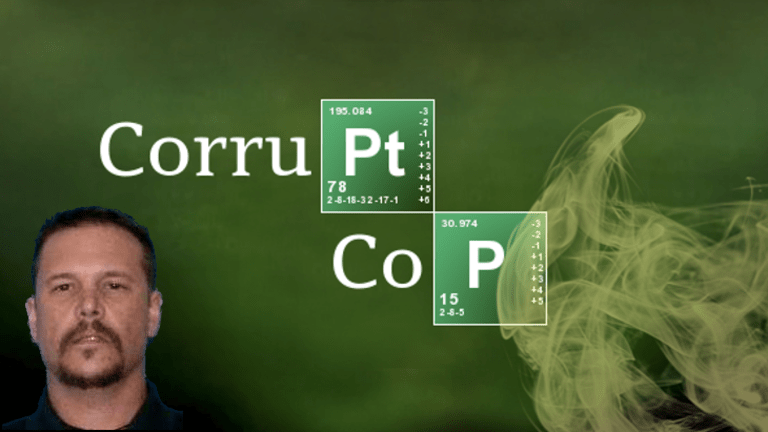 Officer Breaking Bad: Cop Forces Woman to Cook Meth to Support His Habit
Winston County, AL - Former Winston County police officer has pleaded guilty to forcing a woman into cooking methamphetamine so he could feed his drug habit.
42-year-old former officer Grady Keith Concord is charged with extortion under color of official right, manufacturing methamphetamine, and manufacturing and distributing methamphetamine on premises where children are present or reside.
According to court records, in July 2013, Concord approached a woman who lived in Nauvoo and forced her to cook meth for him. For nearly an entire year, Concord delivered pseudoephedrine to the woman's home and returned later to pick up his batch of meth.
Concord disputes the woman's claim that he threatened her with an arrest warrant unless she cooperated, but he concedes that because he was a sheriff's deputy, she might have felt that she "had no choice but to accept his offer," his plea agreement states.
Why else would anyone continue to manufacture an illegal substance in their own home, in front of their children, for someone else, if they were not threatened?
Concord's lawyer, Richard S. Jaffe, said that the former officer had a serious drug problem.
"Keith deeply regrets becoming addicted to methamphetamine, and further breaking the law to obtain the substance, rather than seeking medical treatment. Keith in no way blames anyone or anything but himself for violating his oath as a law enforcement officer, and embarrassing his department and his family. His agreement to plead guilty and accept full responsibility is a positive first step toward recovery," Jaffe said.
Back in June, Concord was arrested and charged with second-degree manufacturing methamphetamine. Immediately after the arrest he was fired, and he has remained in jail since his arrest as well.
Concord was indicted in August, and his arraignment is set for Nov. 18 at the federal courthouse in Huntsville, Alabama.
If convicted, Concord faces a maximum penalty of 20 years in prison and a $250,000 fine for the extortion charge. He also faces a maximum penalty of 20 years in prison and a $1 million fine for the manufacturing charge. In addition to those charges he also faces a maximum penalty of 20 years in prison and $2 million for knowingly exposing children to a meth lab.
John Vibes is an author, researcher and investigative journalist who takes a special interest in the counter culture and the drug war. In addition to his writing and activist work he is also the owner of a successful music promotion company. In 2013, he became one of the organizers of the Free Your Mind Conference, which features top caliber speakers and whistle-blowers from all over the world. You can contact him and stay connected to his work at his Facebook page. You can find his 65 chapter Book entitled "Alchemy of the Timeless Renaissance" at bookpatch.com.