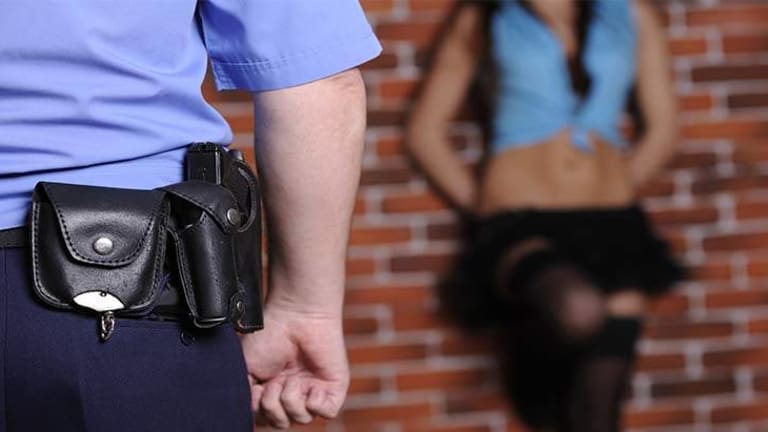 Cop Admitted to Having Sex With a Prostitute Who Stole His Gun, Faced No Punishment
Nothing says, "I'm above the law," like admitting to having your gun, badge, handcuffs and ammo stolen after you passed out having sex with a prostitute - and face no consequences.
Nothing says, "I'm above the law," like admitting to having your gun, badge, handcuffs and ammo stolen after you passed out having sex with a prostitute - and face no consequences.
Kensington, CA -- A Kensington police officer, spent $70 on a night he was almost able to forget.
Sgt. Keith T. Barrow of the Kensington police department took a trip to "the biggest little city in the world" last year. Barrow had a discrete encounter with one of Reno's pros in a shady little hotel room, in an area of town known for its rampant prostitution.
Barrow, apparently overly trusting in his temporary companion, fell asleep. When he woke up, according to court records and interviews, Barrow had spent more than the $70 bucks that he and the prostitute initially agreed upon. He was robbed of his badge, handcuffs, .40-caliber service pistol and two clips of ammunition.
One thing he did get to keep, however, was his job.
Barrow never received so much as a slap on the wrist for his illegal actions which could have ended up endangered the citizens of Reno.
"It's drilled in your head from Day One," Tom Nolan, a retired Boston police lieutenant turned academic, told insidebayarea.com. "Losing your weapon is the most egregious error a (police officer) can make."
Prostitution in Nevada is only legal in licensed brothels, of which Barrow was not in during his erotic encounter. Despite Barrow filing a police report and admitting that he exchanged $70 for sex, he was never cited. Instead, court records named Barrow as the victim.
What two consenting adults do behind closed doors is of no consequence to the state and should not be a crime. However, had an average citizen been robbed during such an exchange, they would have never been able to report it, as they would have likely been arrested for solicitation of prostitution.
But not Barrow -- he's protected by the thin blue line of impunity for criminal acts.
Nine months have passed since this finagling fuzz has admitted to being disarmed of his service weapon during an act that he upholds as illegal and still, no punishment.
Thanks to the local media exposing this incident, the community has become outraged, and talks of discipline have begun. Barrow will be suspended, attorney Justin Buffington told the newspaper, but he would not say for how long or when it would begin.
Insidethebayarea.com explains that this is too little too late:
It's already too late, police experts say. By losing his weapon, they say, Barrow put the public at risk -- and the town of Kensington under huge liability. Reno police got the gun back, but only after the prostitute's pimp shot himself in the leg with it while, as a Nevada judge described it, "trying to be a tough guy."
Coincidentally, Barrow also happens to be the head of the Kensington Polic Union, who's managed to negotiate ridiculously high salaries for his department. According to public data, Barrow is not afraid of using this power of negotiation to help himself; he is the second highest paid officer on the force, receiving $186,000 in 2014.
A criminology professor at the University of Nebraska, Sam Walker, stated that Barrow should have been immediately suspended and aggressively investigated after such an incident.
"This should have cost him his job already. It was dereliction of duty," Walker said. "He showed a complete lack of professionalism in allowing his weapon and other equipment to be stolen."
Cathie Kosel, a former Kensington board member and El Cerrito Mayor, sadly stated that she wasn't surprised in the least that Barrow didn't face discipline for such dereliction. She called the Kensington Police Department "a boys' club. They protect each other."
In the meantime, Barrow is collecting his modest salary of $15,500.00 per month, as he likely continues to lock people up for the very "crime" of which he's admitted to being guilty.
Unfortunately, like the El Cerrito Mayor said, this is not surprising. Police nationwide, have been caught in the most unscrupulous situations and applying the most heinous double standards. Police have been involved in everything from running child prostitution rings to legalizing prostitution for themselves. 
"There are often problems with these tiny little departments," Walker told insidebayarea.com, where "high rates of unprofessionalism," especially in matters of internal investigations and discipline, are common. In situations like Kensington's, he said, "you have to ask if the Police Department is essentially lawless."