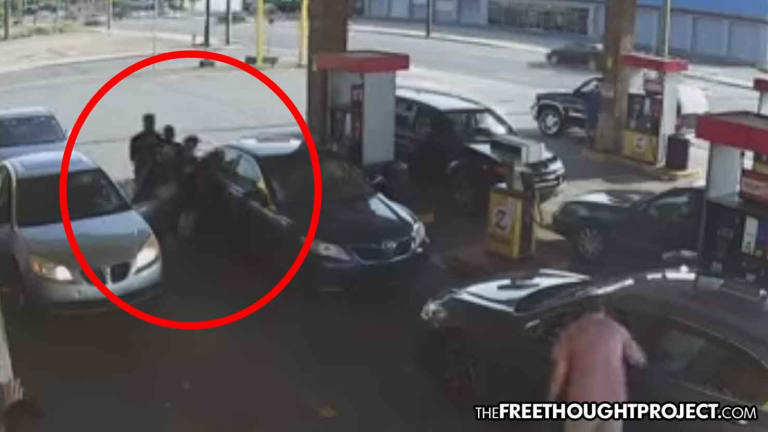 Cop Allowed to Quietly Resign After Video Showed Him Smash Woman's Head in Over License Plate Sticker
A Nashville police officer quietly resigns following the release of a video which shows him smashing a woman's head repeatedly into a car.
Nashville, TN -- Like so many officers are allowed to do to escape accountability, Nashville Police Department officer Barrett Teague resigned before an investigation into possible police brutality could be completed. Now, his sadistic act of brutality against a woman over an expired sticker will like go unpunished.
On July 3rd, Teague initiated a traffic stop against Adreneyonia Ensley (21) for having an expired license plate. The stop quickly escalated into Teague slamming Ensley onto several cars including her own and that of another motorist.
The traffic stop took place at a gas station on Dickerson Pike. Everything seemed to be routine until Ensley got out of her car to see for herself if her license plate was actually expired. That's when Teague apparently began yelling at her. It's unclear exactly how it unfolded because the video uploaded by Ensley has no audio but it seems as though a verbal argument quickly escalated into a physical one.
Teague can be seen slamming the young woman through the sharp angled door jam onto her own hood and then onto the rear passenger door of a car parked alongside Ensley's. The video appeared to show the officer using such force that the back of Ensley's head slammed into the top of the other vehicle.
"The administration of the MNPD and Officer Teague's supervisors at the East Precinct are very concerned with what the video shows," police said in a statement earlier in July.
The passenger riding with Ensley got out of the car and came over to the driver's side where the pushing and shoving was taking place. After Teague slammed Ensley's head on the other vehicle the officer can be seen pushing back the passenger who appears to have tried to push back against the officer who was beating the woman.
Fortunately for the two motorists, Teague was not trigger-happy or the two would likely have been shot and possibly killed, all for not paying state-sponsored extortion fees in the form of a license plagte tag.
On Thursday July 4th, Teague was assigned desk duty. The Metropolitan Nashville Police Department issued the following statement:
The MNPD on Thursday afternoon was made aware of the video showing Officer Teague's interaction with Ms. Ensley. The administration of the MNPD and Officer Teague's supervisors at the East Precinct are very concerned with what the video shows. Officer Teague was decommissioned Thursday afternoon (police authority removed). He has been assigned to plain clothes desk duty at another precinct. The Office of Professional Accountability has begun an investigation of this interaction. An Office of Professional Accountability detective has reached out to Ms. Ensley and is awaiting a return call."
As we've documented over the years, such allegations of police brutality usually lead to an investigation of the officer in question. Such an officer is usually placed on administrative leave -- which can take years in extreme cases and is considered a paid vacation by police accountability activists.
However, Teague did not wait until the investigation was completed and preemptively resigned on Wednesday. Teague's resignation ended the internal investigation but a criminal one is still pending according to local news reports. Hopefully, justice is served, but if history is any indicator, this will not be the case.
https://m.youtube.com/watch?v=PP43ibgqyd4&lact=6&itct=CCMQpDAYACITCPLsmOXn4uMCFYGrxAodmdEMQjIGc2VhcmNoUhNNbnBkIGJhcnJldHQgdGVhZ3Vl&csn=unNDXdioM4yDkgbypYTIBg&noapp=1&client=mv-google&has_verified=1#