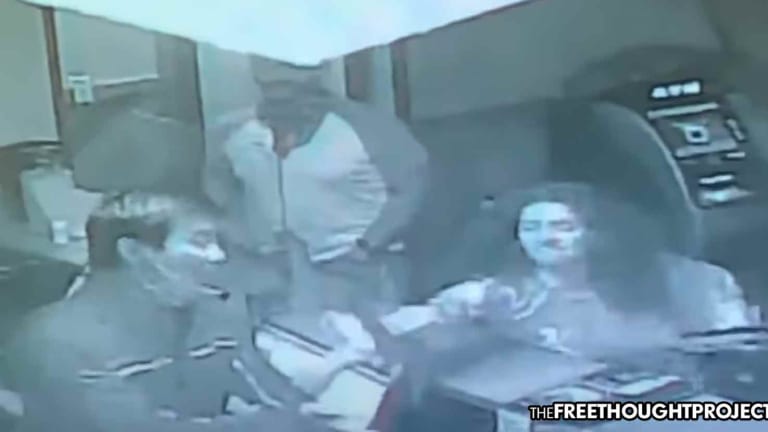 WATCH: Off-duty Cop and Friends Assault Restaurant Owner, Smash Desk After Being Asked to Mask Up
"I'm a police officer, I don't need a mask."
Marshfield, MA — Regardless of how you feel about wearing a mask, if the owner of a private business requests that you put on a mask before coming onto their private property and you refuse to comply with their wishes, you are trespassing and in violation of their property rights. Unfortunately, much of the anti-mask crowd, who will likely tell you they favor small government and respect property rights, fail to understand property rights and therefore look like fools, or worse, when attempting to "resist" wearing a mask.
It is important to point out that TFTP, in no way, supports government mask mandates of any sort. One does not need to be ordered around like a child in order to protect themselves and those around them from a pandemic. That being said, respecting private property is not negotiable.
On both sides of the mask debate exist levels of anger, hatred, and ignorance like we here at TFTP have never seen. Since mask wearing has been politicized, we have seen people being killed for asking others to mask up, and being gunned down by police after refusing to mask up. Video after video has surfaced showing mask shamers wishing death on innocent children as anti-maskers attack other innocent people. It is pandemonium and it is seemingly getting worse. TFTP has even reported on Metro Nashville At-Large Council Member Sharon Hurt who suggested charging people with attempted murder or murder for refusing to wear a mask.
This is ludicrous. However, so is the behavior of the police officer and his friends in the video below.
Surveillance video from inside Ming Dynasty showed an off-duty Quincy police officer and three other people become violent and go crazy when a dispute arose over wearing a face mask.
The video shows a 49-year-old woman smashing the front desk of the restaurant over the mask dispute, while attacking the owner.
"She was pushing my husband and smashed my front desk," restaurant owner Lei Yan said. "It put my husband's life in danger."
Accompanying the woman was the off duty cop who also became irate and was using his badge to justify his illegal actions.
Yan said the group came in after midnight and was very drunk. She said the incident started after the restaurant refused to serve them drinks.
"When they came in, they looked very drunk," Yan stated.
After being refused drinks, the group of drunks then allegedly left their seats to protest Yan's decision and refused to put on masks.
That's when the violence started and when the cop protected the offender.
"He just took his police ID, showing our whole bar, our whole restaurant," restaurant co-owner Jimmy Tian said. "Like, I'm a police officer, I don't need a mask."
According to the Marshfield police department, Marshfield Police Chief Phil Tavares said the woman pushed a customer as well. Tavares noted that although the officer didn't physically assault someone, he was belligerent.
"The woman pushed one of the owners, pushed another customer, and then began pushing things over inside the restaurant," Tavares said. "The man was acting belligerent as well, however he did not assault anyone."
Likely due to the fact that police may have put the restaurant on blast for contempt of cop and get them shut down, Yan and Tian did not press charges. However, they did serve the officer and the belligerent woman with a trespass notice and if they return to the restaurant they will be subject to arrest.
Through tears, Yan explained how the lockdowns have made it hard for everyone and they are struggling to survive and pay their employees who all have families to take care of. Actions like the officer's only make this difficult time that much harder.
"I was crying for two days because I felt hurt. A police officer should stop the criminal," Yan said. Sadly, however, as the video below shows, this cop protected the criminal and used his badge to do it.