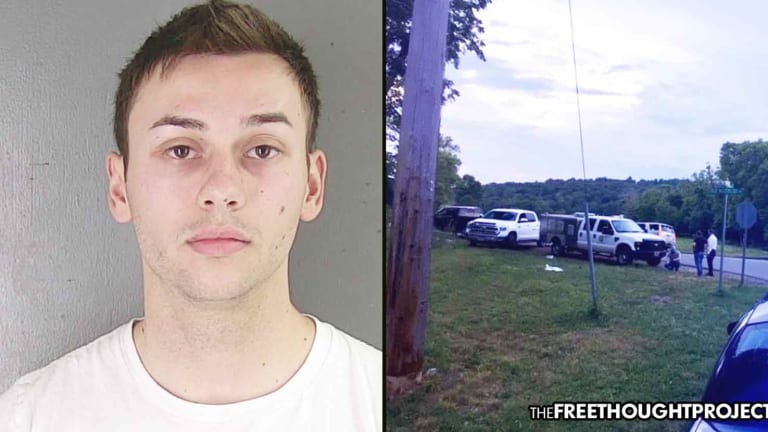 Cop Arrested After Manhunt Launched for an Attack He Faked On Himself
A manhunt was launched for a black SUV whose driver allegedly attacked a cop on the roadside but it turns out the cop faked the story and has since been charged.
Warrenton, VA — Over the weekend, citizens of Virginia and the rest of the country were shocked as headlines across the internet reported that a Fauquier County Sheriff's Deputy was found unconscious on the roadside after being attacked by people driving a black SUV. The blue line supporters came out in full force driving home the narrative that there is a war on cops. However, after police began investigating the incident, they quickly found out that no attack ever happened.
On Friday, the Fauquier County Sheriff's Office issued an alarming statement titled in all caps: DEPUTY ATTACKED - FOUND UNCONSCIOUS ON ROADSIDE. It read like a movie script, claiming the deputy was off-duty and on his way home when he selflessly stopped to clear some debris out of the road and was suddenly attacked.
A Fauquier County Sheriff's Deputy was found unconscious on the roadside by a passerby after being attacked by occupant(s) of a passing vehicle. The attack occurred on Friday night, July 10, 2020, at 7:10 p.m. on Old Waterloo Road at the intersection with Wilson Road outside of Warrenton.

The deputy stopped at the intersection to remove a road hazard from the roadway. As the deputy was walking back to his marked Sheriff's Office vehicle he heard an approaching vehicle and heard someone yell. The deputy observed a black SUV and was then struck in the head by an object. The black SUV continued travelling west from Old Waterloo Road onto Wilson Road.

A passerby found the deputy at 7:15 p.m. lying unconscious and face down on the roadside. The passerby contacted 9-1-1. The deputy was transported to Fauquier Hospital. The deputy was travelling home after his shift when this attack occurred.
But all that has changed now, and the department is backtracking.
Fauquier County Sheriff's Deputy Jake Preston Dooley, 22, has been charged with falsely summonsing law enforcement and obstruction of justice after the Fauquier Sheriff's Department "thoroughly and vigorously investigated" his claims and found them false.
Apparently, the deputy went so far as to hit himself in the head to fake the attack and was even hospitalized. Amazingly enough, it only took the department 24 hours to realize Dooley was lying. Sheriff Mosier then thanked the community for their outrage in the cop's fake attack, and noted how horrible it made them feel.
Sheriff Mosier would like to recognize the tremendous amount of support the Sheriff's Office received when the original report was made public. We recognize the support of our citizens, law enforcement family and partners, local government, news organizations and community corporate partners. Support in the form of messages, food, reward offerings and other things were overwhelming. That support makes it even more difficult, but know your Sheriff will do the right thing always.
Sheriff Mosier said, "Sometimes bad things happen to good organizations. We truly regret that this happened but find a tremendous amount of comfort in the knowledge that our community understands and supports law enforcement in Fauquier County."
Dooley was released Saturday on a $10,000 bond but "will be transported to a regional facility for a mental health evaluation," police said.
While instances like this one may seem outlandish, the fact is that TFTP reports on them regularly.
In January of this year, TFTP reported on the fabricated story of how Los Angeles Sheriff's Deputy Angel Reinosa was shot in the shoulder by a sniper as he walked from his patrol car into the station. A massive manhunt ensued as heavily armed deputies in military attire set up a perimeter and locked down the area but it would all be in vein. Reinosa was arrested because he made the entire thing up.
Less than a week later, another cop in Ohio was arrested for doing the exact same thing! On January 13, approximately 50 officers from ten different departments combed a prominently black neighborhood looking for a non-existent suspect. This swarm of cops was reportedly detaining innocent people, pulling over others, and shaking up an entire community. All of this chaos and rights violations were because Warren Police Officer Noah Linnen falsely claimed he'd been involved in a shootout with a black man in a black SUV.
Apparently, the "black SUV" is the go-to vehicle for cops faking attacks on themselves.
TFTP has reported on dozens of these instances over the years in which cities were locked down and massive manhunts violated the rights of innocent citizens — all because of cops faking attacks. What's that saying about the boy who cried wolf?