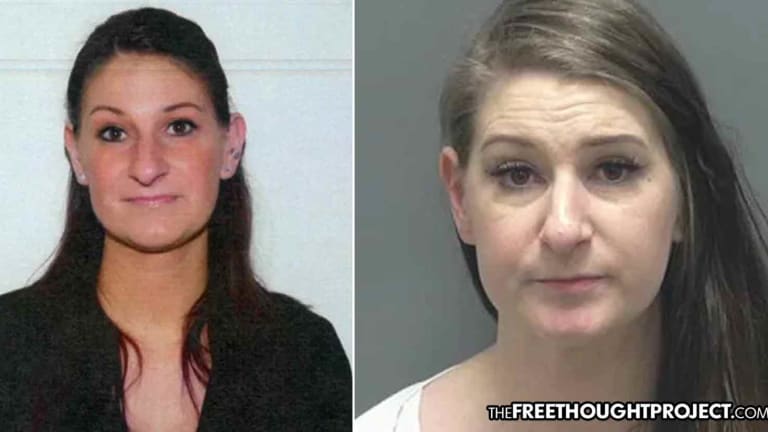 Cop Arrested for Burglarizing Grieving Families at Funerals, Bonds Out and Gets Arrested Again
A cop who was arrested for burglarizing families attending funerals last year, bonded out and was arrested again this week for doing the same thing.
Jefferson, WI — As TFTP reported in December, in what we could only describe as 'a new low', a Jefferson County sheriff's deputy was arrested and charged with burglarizing the homes of people she knew would be attending funerals. She was busted, fired, and went to jail but she apparently still hasn't stopped doing it. This week, she was once again caught on camera breaking into a home of a family attending a funeral. You cannot make this up.
The former sheriff's deputy, Janelle Gericke, 29, of Jefferson, used the obituaries to stalk those mourning their lost family members — to steal from them. She was finally caught last year when a family returned home early from a funeral and found Gericke in their kitchen.
On February 24, however, while out on a $10,000 bond, Gericke struck again. Around 8:30 in the morning, according to the criminal complaint, the homeowner received a notification someone was trying to get into his home and he called the Jefferson Police department.
Gericke was back in court Wednesday facing a new burglary charge, with felony bail-jumping added on. According to the Daily Union, each burglary charge carries a maximum sentence of 12 years and six months imprisonment and the felony bail-jumping charge carries a maximum sentence of six years in prison. She also could be fined up to $60,000.
The homeowner reported he was missing prescription hydrocodone pills from a bathroom drawer.

The security video showed a white woman wearing black calf-height boots, black leggings, a dark jacket, glasses and a dark knit hat with pink on the bottom, according to the complaint. The homeowner told police he believed it was Gericke in the video because he knows her personally and knew she worked at the sheriff's office.
"Jefferson County Sheriff Paul Milbrath and the Jefferson County Sheriff's Office apologize to the people that they serve for the embarrassment and mistrust that this individual may have caused," the office said in a news release.
According to the criminal complaint, Gericke was hired in February 2016 as a corrections officer in the Jefferson County Jail. In 2018 and 2019, she appeared at several homes of people who were listed as relatives of the deceased in local obituaries, at times when the services were being held, or whom she knew or suspected would not be home for other reasons.
In 2018, this thieving cop was caught on a doorbell camera breaking into a home in Watertown while a family was away at a funeral. While in the home, she stole the family's checkbook. To cover her tracks the burglar cop pretended to be conducting Facebook marketplace transactions.
She left behind a note that read, "I was here to pick up the stuff through Facebook. I came in to the house and the items weren't by the door. So I didn't leave my money. I tried Facebook messaging you but you haven't responded."
It would take another year before investigators would put two and two together and realize that this cop was burglarizing the homes of people going to funerals. This public servant would eventually slip up and police pulled a fingerprint from one of her fake Facebook notes which tied her to multiple burglaries.
On Wednesday, Gericke posted a $2,000 bond and was equipped with an ankle monitor to make sure she doesn't leave her home.
"Apparently while on felony bond already for another burglary case, the defendant has been, it would appear to be continuing to burglarize homes in this community," Assistant Attorney General Adrienne Blais said. "I believe that in the interest of community safety and to ensure further compliance with bond, the cash bond is appropriate at this time. Quite frankly, I can imagine the fear and the anger that the community must feel right now seeing this and knowing the course of conduct which led to the first case appears to still be ongoing."
Gericke had a plea hearing scheduled for April 16 where she likely would have been let off with a wrist slap. However, with these new charges, she may actually be held accountable.
While burglarizing the homes of people attending funerals is certainly a despicable move by a public servant TFTP has reported on similar misdeeds carried out by those sworn to uphold the law. Although he had yet to have his funeral, earlier this year, an Atlanta police officer was caught stealing from a murder victim. Atlanta Police Department fired Officer Keisha Richburg in July after her own body camera footage caught her stealing $500 out of the dead man's wallet.