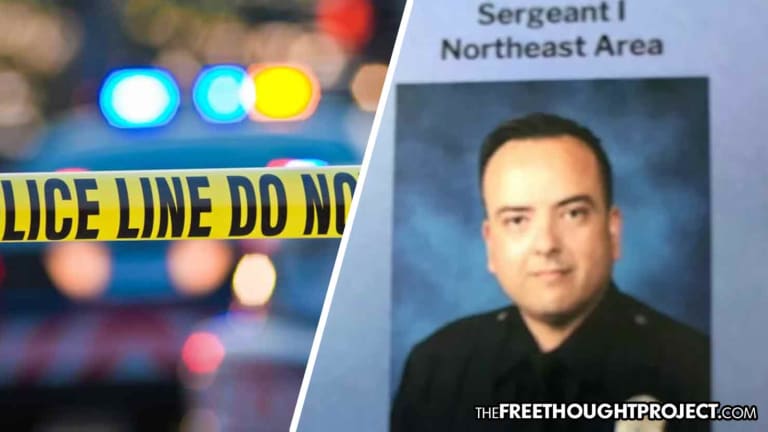 LAPD Cop Arrested for Attempted Murder for Shooting Fellow Cop in Front of Supervisor
An LAPD police officer is currently behind bars on a $1 million bond after allegedly shooting his fellow cop in the chest in front of his supervisor.
Los Angeles, CA — A Los Angeles police officer is behind bars this week and facing charges of attempted murder after he allegedly shot a fellow cop. When cops are shooting each other, it may be time to re-examine their training and psychological evaluations.
Officer Ismael Tamayo, 44, was arrested on Sunday after the San Bernardino Sheriff's Department responded to reports of a shooting. Tamayo was with one other officer and one supervisor when the shooting took place.
When deputies with the San Bernardino Sheriff's Department arrived on scene, they found one officer — a 48-year-old man — shot in the torso, who is expected to recover.
According to investigators, the incident involved three friends "who were camping and shooting guns at the OHV area over the weekend." They said Tamayo shot the victim Sunday morning "for reasons still under investigation."
According to LA Daily News, LAPD officials called the shooting "disturbing" in a statement Sunday afternoon, and said Chief Michel Moore "expressed disappointment and frustration" about the incident.
"The events overnight culminating in the serious injury to our off-duty officer, apparently at the hands of another member of this Department, give me great concern," Moore said in a statement.
"I spoke earlier this morning with San Bernardino Sheriff John McMahon, pledging our full support of their criminal investigation. I am thankful our injured officer is in stable condition and expected to survive. I am committed to determining what and how this occurred."
Naturally, Tamayo's police union-appointed attorney claims his client did nothing wrong when he shot his fellow cop in the chest and expects all charges to be dropped. He claimed it was way too early to charge the officer with attempted murder.
"I think once the investigation shakes out he'll be cleared of any criminal wrongdoing," attorney Greg Yacoubian said. "I think it's obviously way to early to be making those kind of value judgments about what happened."
Tamayo is being held at the Adelanto Detention Facility in San Bernardino County on $1 million bail pending a court appearance scheduled for Tuesday, according to inmate records.
While a cop killing or trying to kill a fellow cop — on purpose — may seem uncommon, TFTP recently reported on a case out of Oklahoma in which a police officer killed his police chief.
As TFTP reported in November, Mannford police officer Michael Patrick Nealey, 49, was arrested and charged with the murder of Mannford police chief Lucky Miller, 44. The duo traveled from the small town of Mannford, Oklahoma for a conference in Pensacola over a weekend when things took a tragic turn.
Then, in a local story out of Tulsa, KTUL reports that Nealey appears to have no idea why he's in jail nor what happened. The video was just released last month, showing Nealey's interrogation just hours after he allegedly beat Miller to death.
"I know you're asking me questions, but can I ask you a question? Homicide? Who is dead?" Nealey asked the officers interviewing him.
"Lucky's dead," replied the officers.
"Lucky's dead. Hmm," Nealey said in response.
As KTUL reports, in pictures of the crime scene, blood and paramedic equipment is seen on the floor and a mostly empty vodka bottle is seen nearby. Nealey claims to not know what happened.
"I would like to know what happened. I'm telling you I don't have any memory of any of this sh--. I'm shocked that Lucky's dead. It's shocking," he said.
Nealey's wife backs up this sudden onset of amnesia for her husband, claiming he just "woke up in a nightmare."
"Only way I can describe it is he fell asleep and woke up in a nightmare. I wish we could have answers. There's just not any at this point," said Lisa Nealey.
"I've got no problem with Lucky," Nealey said. "I can't believe what you're telling me has happened. I can't believe. Hmmm. Wow."
That fateful night, the two men were staying at the Hilton on Pensacola Beach over the weekend for a law enforcement conference. During their stay, authorities say an alcohol-fueled brawl broke out between the pair and when they found Nealey he was on top of Miller with bloody hands.
These are the people who we trust with enforcing the law.