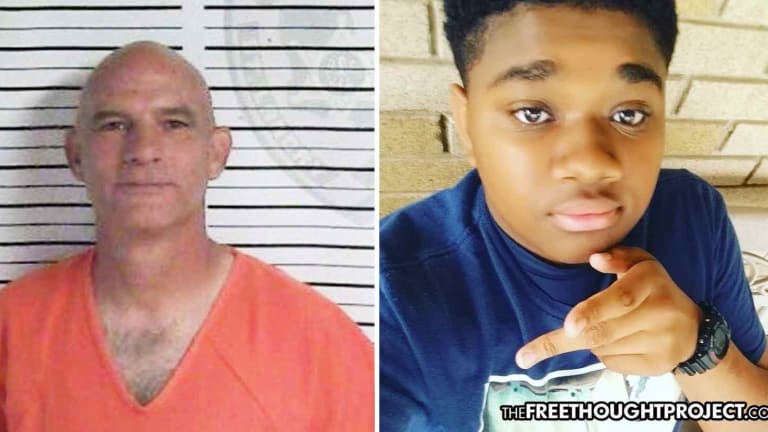 Cop Arrested After Video Showed Him Beating Innocent Man in Hospital Bed for 2 Hours
An innocent young man was strapped to a hospital bed when a brutal police officer began repeatedly beating him over the course of two hours.
Opelousas, LA — Like so many cops do to avoid accountability, Sgt. Tyron Andrepont, a 17-year veteran of the Opelousas Police Department, attempted to quietly resign after he was caught on video attacking an innocent man in the hospital. However, thanks to a shifting climate in the police accountability arena — likely due to heavier scrutiny after the George Floyd murder — Andrepont will not be allowed to resign. Instead, he will be fired.
Last November, Andrepont was captured on video savagely attacking 21-year-old Jonah Coleman in a hospital bed. Coleman had committed no crime. After investigators watched the video, they had no option but to charge Andrepont — though it took them until this June to do so. The veteran cop was subsequently arrested on five counts of malfeasance in office stemming from that incident.
When he put in his request to resign amid the charges last month, something encouraging happened and his request was denied. The Opelousas Board of Aldermen rejected the resignation, opting instead to take more punitive action of firing him so his termination would be on his employment record, according to the Daily Advertiser.
During the investigation, Internal Affairs investigator Capt. Craig Thomas. McLendon said he discovered Andrepont used "an extreme amount of force" and when Andrepont was asked questions, he was "untruthful" during the investigation.
He then recommended this problem officer be terminated.
Imagine for a moment, any other profession on the planet that would have to go through such great lengths and wait nearly 9 months to fire a person who was seen on video beating an innocent vulnerable man in a hospital bed.
Though the video has yet to be publicly released, Louisiana State Police Investigator Mark Fournet described in detail what transpired in the video.
"Sgt. Andrepont then rushed forward quickly, reaching towards Jonah with his right hand, striking his face, and causing his head to snap backwards," Fournet said. "Andrepont reached towards Jonah again with his right hand but appeared not to make contact."
At 7:18 p.m., the officer then pressed down on the teen's upper torso and neck area with one hand, then moved that hand to the right side of Coleman's neck, pushing his head and upper body, according to Fournet's account of the video.
At 7:37 p.m., Andrepont grabbed the lower part of the teen's leg and "threw" it back toward Coleman's head, Fournet said. Five minutes later, Andrepont put his right hand on Coleman's neck, pushing his head down. He maintained his hold on Colemna's neck, according to court documents.
In another incident at 9:51 p.m., Andrepont "released his hold on Jonah's arm and put his right arm around Jonah's neck in a choke hold." At 10:18 p.m., Andrepont "held the handcuff that was still attached to Jonah's right wrist and pulled it to the rear, extending Jonah's arm."
According to the Advocate, after reviewing Fournet's report and the video, St. Landry Parish District Attorney's Investigator J. Rene Speyrer wrote: "It is my opinion that Sgt. Tyron Andrepont, working as an officer with the Opelousas Police Department, committed several acts of battery on Jonah Shyheem Coleman Jr…."
"(It shows) he has an issue with dealing with the public. It is very easy for him to use excessive force," McLendon said. "The video concluded that a moment's notice he would go from being a normal person to actually going straight to using use of force. There was nothing in between."
Since the incident in November, Andrepont has been on paid vacation and collecting a check. Luckily, all that changed on Monday.
Unfortunately, this is the problem with so many police officers these days — they take out their anger in the form of violence on the innocent. Andrepont's mugshot should tell you all you need to know about this problem. As he is being booked into jail for attacking an innocent man in a hospital, he is smiling, likely knowing he will get off with a slap on the wrist.