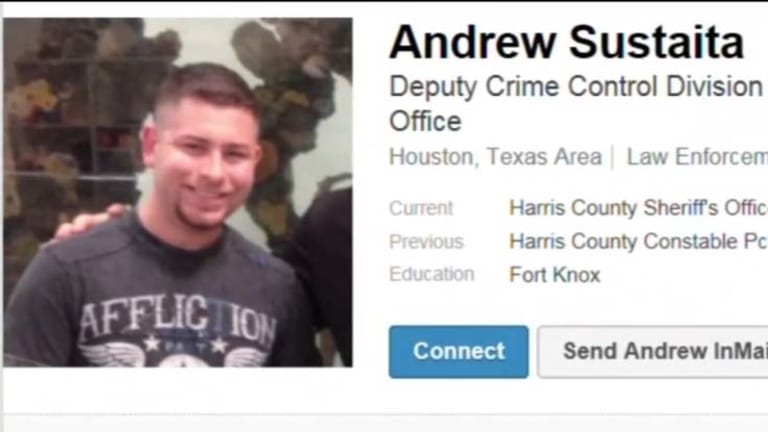 Cop Arrested for Using Police PC to Post 'Bestiality' Video Of Himself Raping Small Dog
A Houston cop has been fired and charged after he allegedly used a department computer to post videos of himself online having sex with a dog.
Houston, TX — Harris County Sheriff's deputy Andrew C. Sustaita Jr. is due in court this week to face some truly disturbing charges. The six-year veteran of the Harris County Sheriff's Office is accused of raping a small dog, taking the video, and then posting the video online with a police department computer. So far, the only crime that Sustaita is charged with is obscenity, a felony. However, it is possible that he will receive more charges after appearing in court.
Surprisingly, Sustaita was fired immediately after the arrest, so the evidence against him must be substantial. Otherwise, the department would have delayed his termination.
The Sheriff's Office High Tech Crime Unit was tipped off that video of a man raping a small dog was posted from a police department account. Eventually, Sustaita was named as the suspect, but the Harris County Sheriff's Office has refused to release any details or comment further on the case.
Sheriff Ed Gonzalez had only this to say on behalf of the department:
"The possession of obscene and illicit material is made even more troubling when a Sheriff's Office employee is found to be involved. Every resource of this office will be dedicated to protecting the public and holding our employees accountable for wrongdoing."
The deputy comes from a law enforcement family, and they say they are waiting for more information. His father says he is devastated to hear this allegation, and that his son is a hard worker and he is reacting like any father would.
Despite the heinous crime of which he is allegedly responsible, many mainstream media sources felt the need to mention that they interviewed one of his friends who told them that he was "an honorable and committed family man."
Would a news source ever consider printing such a thing about a person filming themselves having sex with a dog if the suspect did not work for the government in the capacity of a police officer?
When cops kill innocent people, local news stations, with the help of police, are quick to dredge up whatever mistakes they've made in the past to assassinate that person's character in an attempt to downplay the killing. The glaring difference is insulting, to say the least.
Oddly enough, this is not an isolated incident. Robert Melia Jr. was sworn to protect and serve, but a Burlington County jury found he abandoned that oath when he and his former girlfriend filmed themselves repeatedly molesting teenagers. During the investigation, it was discovered that Melia had also filmed himself having sex with multiple cows.
[author title="" image="https://scontent-lax3-1.xx.fbcdn.net/v/t1.0-0/p206x206/11180635_10206767821827999_559224194627129346_n.jpg?oh=1629dfaa493cde9bde7d896161275ada&oe=58A44235"]John Vibes is an author and researcher who organizes a number of large events including the Free Your Mind Conference. He also has a publishing company where he offers a censorship free platform for both fiction and non-fiction writers. You can contact him and stay connected to his work at his Facebook page. John is currently battling cancer naturally, without any chemo or radiation, and will be working to help others through his experience, if you wish to contribute to his treatments please donate here.[/author]