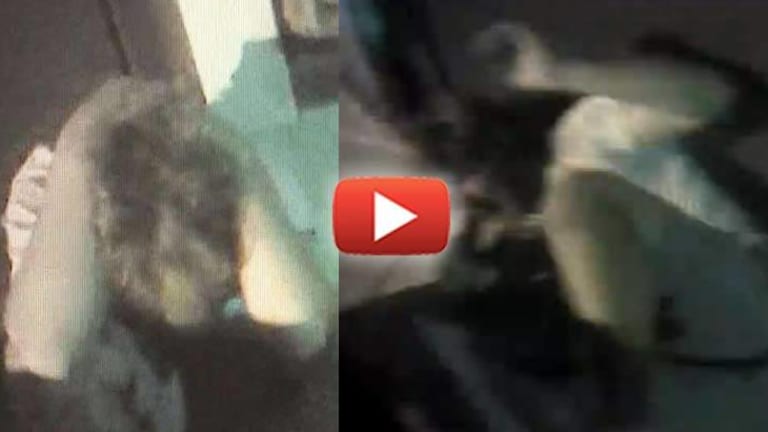 Cop Arrested After His Own Body Cam Refuted his Report, Shows Him Pummeling Teen
This cop's report made him out to be the heroic victim of an attack, but unlike this cop, the body cam did not lie.
Athens, GA -- In June, Athens-Clarke County police officer Jonathan Fraser was responding to a call about a drunk college kid.
If you read the report that Fraser, who has a long and tarnished history filed, you would think that this hero cop diffused a dangerous situation and successfully defended himself against an intoxicated attacker. And, that's exactly what his fellow officers thought -- until the body cam footage was reviewed.
In his report, Fraser wrote that his victim, 19-year-old Michael Roquet "struck me with his left elbow in my chest," and later "he hit me again with his elbow.... so I struck him [with a baton] in the leg and upper body" and then handcuffed him.
However, according to the body camera footage of the incident, it is clear that there is no violent struggle, and only a drunken college kid serving as an outlet for this cop's rage. At no time in the report did Fraser mention that he struck Roquet in the head. Nor did Fraser mention that Roquet fell to the ground after the devastating blow and that he proceeded to pummel his inebriated victim as he curled up in the fetal position to protect himself.
"He [Roquet] is not resisting at that point, he is on the ground," said Police Chief Scott Freeman as he watched the video of this beating.
Amazingly enough, when the department investigated themselves, they actually found wrongdoing. In the report investigators issued to Fraser after the incident they stated that "You violated... policy.... You used hard control strikes from an impact weapon... on an individual who was actively resistant, but was not assaultive.... a strike to the head from a baton is considered use of deadly force.... You used more force than necessary."
Not only did the internal investigation find Fraser in the wrong, but the department went against the normal circling of the blue wagons and refused to support the violent tactics of one of their own.
"That is unauthorized use of force, absolutely. And that is something that is completely intolerable, and something we're not going to put up with, and we dealt with it appropriately," said Freeman.
After being accused by his fellow officers, Fraser denied striking Roquet in the head, despite the video showing it. He attempted to justify his deadly force by saying that he had "tunnel vision." He then said, in a serious manner, that he "knows he is out of shape," so he had to beat down the 19-year-old drunk man because he was scared and didn't know if "he [Roquet] was going to spring up from that position and continue resisting. I struck him again on his back."
In other words, because Roquet could have gotten up, he had to be beat down.
Contrary to the normal process of covering up the crimes of police officers, Fraser was subsequently fired from the department for his actions. Not only was he fired, but he is now facing aggravated assault charges as well.