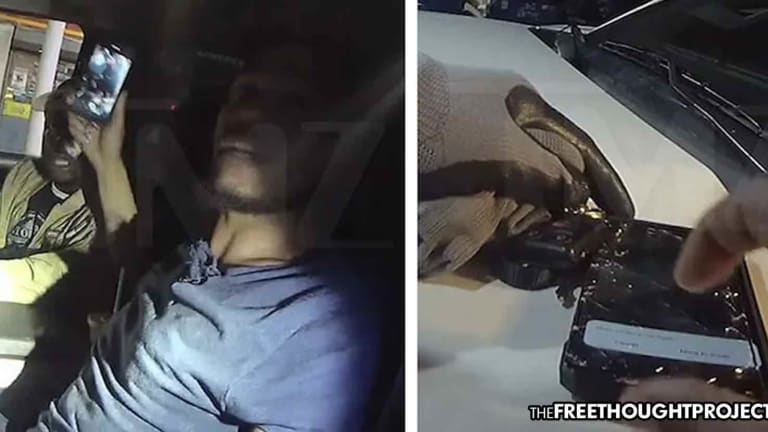 Cop Arrested After His Own Body Cam Caught Him Deleting Video Evidence from Victim's Cellphone
A corrupt Philadelphia police officer who was accused of deleting arrest video off a cellphone is now faces charges due to overwhelming evidence.
Philadelphia, PA -- A Philadelphia police officer is currently facing charges of attempted tampering, attempted official oppression and obstruction of justice for deleting cell phone footage of an arrest involving a suspect he arrested in March for an outstanding warrant. The suspect, Jacob Giddings, was sitting inside his vehicle at a gas station with a friend when the arrest took place.
In a release, the Philadelphia Police Department said Police Commissioner Danielle Outlaw has suspended officer Tyree Burnett for 30 days. She intends "to dismiss after at the end of the 30 days," per the statement.
According to the police report, obtained by Revolt news, Officer Burnett noticed the vehicle, ran the license plates, and discovered Giddings had a warrant for his arrest for assault charges. Burnette made contact with Giddings who attempted to record his arrest, letting officer Burnette know he was doing so. Giddings was then forcibly removed from his vehicle, placed in handcuffs, had his cell phone confiscated, and his vehicle searched.
Officer Burnette then deleted Giddings cell phone videos of the incident and the officer can clearly be seen on body camera footage scrolling through the suspect's phone (an action which normally requires a search warrant) and deleting any videos the young man had recorded of his contact with Officer Burnette.
After Giddings and Burnette were in the squad car together, Giddings reportedly asked Burnette if his videos were still on his cell phone to which Burnette reportedly answered, "I don't know".
The officer did know because he could clearly be seen deleting the videos in question. The apparent lie told to the person he was arresting has now called into question every case Burnette has been involved with.
If the officer has been in a habit of deleting evidence, and lying on police reports (he made no mention of deleting videos in the arrest report), then every person who has been prosecuted by Burnette's police actions could potentially see their cases overturned. In other words, it appears Burnette is a dirty cop.
Police charged Giddings with resisting arrest and drug possession (cannabis). Giddings has since hired an attorney and is suing the Philadelphia Police Department for violating his civil rights, for using excessive force and assault, tampering with evidence, false arrest and malicious prosecution. Giddings' lawyer, Donte Mills of Mills &. Edwards LLP, recovered the deleted video of his arrest by accessing Giddings' iCloud account.
Lennon Edwards, Giddings' attorney told CBS Philly, There's dishonesty happening here," adding, "There's tampering with evidence here and it kills. It harms. It harms the community."
Indeed it does.
Critics of law enforcement have claimed for decades upon decades the system they are trying to reform is rife with corruption. Fortunately, the entire incident was caught on body camera footage or else there would be no proof to support Giddings' claims and Burnette would not be facing charges.
It is unclear how much time Giddings spent in jail from the incident which took place in March but without a doubt, it seems, a jury will have no problem siding with Giddings and his defense attorneys in their civil suit against the police department.
Such a settlement will not be paid for by Burnette but will be paid for by the taxpayers instead. This incident is precisely why many members of the public want qualified immunity to be a thing of the past. In their minds, Giddings should be able to sue Burnette for what he has clearly done to hide the facts and evidence surrounding what should have amounted to a simple arrest.