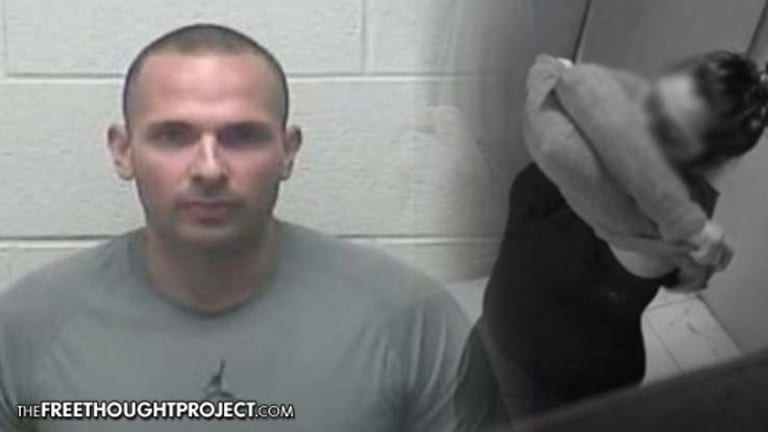 Trove of Child Porn Found at Cop's Home After He's Arrested for Filming Girls in Target Dressing Rooms
An investigation into a sicko cop has revealed a horrifying cache of sexually explicit images of children -- at least one of whom appeared to be a toddler.
Bismarck, ND -- On June 14, a 16-year-old girl was trying on a bathing suit in a Target dressing room when she noticed a cell phone slide under the door. The phone belonged to 29-year-old Michael Rivera, a deputy with the U.S. Marshalls, who was arrested for this act. However, a subsequent investigation of Rivera's home and computer revealed a horrifying cache of sexually explicit images of children -- at least one of whom appeared to be a toddler.
On Friday, Rivera was charged again after an investigation into the first incident revealed additional images on his phone of another woman in the same Target.
According to the Dickinson Press, Rivera was first charged in June with one count of criminal attempt on allegations that he recorded a minor under a dressing room door at Target. In a later review of his computer, investigators found evidence to charge him in August with conducting similar acts throughout the city. These two cases were recently joined, and Rivera is scheduled for trial in those two cases on Jan. 30.
Authorities say they found hundreds of images and videos of sexually exploited children on Rivera's laptop. They noted that in one of these videos, the victim appeared to be a toddler.
Aside from the disturbing child pornography found on Rivera's laptop, police discovered a cache of photos and videos Rivera produced filming up skirts of unsuspecting victims. These images were taken from stores all over the community like Kirkwood Mall, Kohl's, Ramkota Hotel, as well as other instances at Target.
According to KFYR, court documents say the found content is also linked to places outside Burleigh County including Chicago, Miami and Jacksonville Florida, Minneapolis and Brunswick Georgia.
After he was originally charged in June, Rivera pleaded not guilty. However, he will likely have a hard time making this claim now.
This public servant and protector of society now faces nearly two dozen charges including attempts to promote sexual performance by a minor and possession of prohibited materials.
Rivera is currently being held on a $150,000 cash bond and is expected in court early next year.
As the Free Thought Project reported last November, an investigation by the AP revealed around 1,000 policemen across the US had their licenses revoked and lost their jobs over the last six years on account of numerous sexual offenses that included rape and possession of child pornography.
The probe revealed that 550 officers were decertified for various sexual assaults, including rape. Some were dismissed for sodomy or sexual shakedowns, where victims were forced to perform sexual acts to avoid arrest.
A further 440 officers lost their jobs for other sex-related offenses, such as possessing child pornography, being a peeping Tom, sending sexually charged messages to underage teens or having sex while on duty.
Like Rivera, about one-third of the officers lost their jobs for committing sexual offenses with juveniles.
The real number of sexual offenses could, however, be much higher, as AP only looked into registered cases where an officer lost their badge because of an offense. Lawyers and police chiefs acknowledged that some departments let the sexual assaults slide to limit their liability, allowing their staff to quietly resign or transfer to other duty stations or departments.
Furthermore, the probe notes that not all decertified officers faced criminal charges as some policemen surrendered their badges voluntarily to avoid a potential scandal.
[author title="" image="https://tftpstagingstg.wpengine.com/wp-content/uploads/2016/03/magorist-e1456948757204.jpg"]Matt Agorist is an honorably discharged veteran of the USMC and former intelligence operator directly tasked by the NSA. This prior experience gives him unique insight into the world of government corruption and the American police state. Agorist has been an independent journalist for over a decade and has been featured on mainstream networks around the world. Follow @MattAgorist on Twitter and now on Steemit[/author]