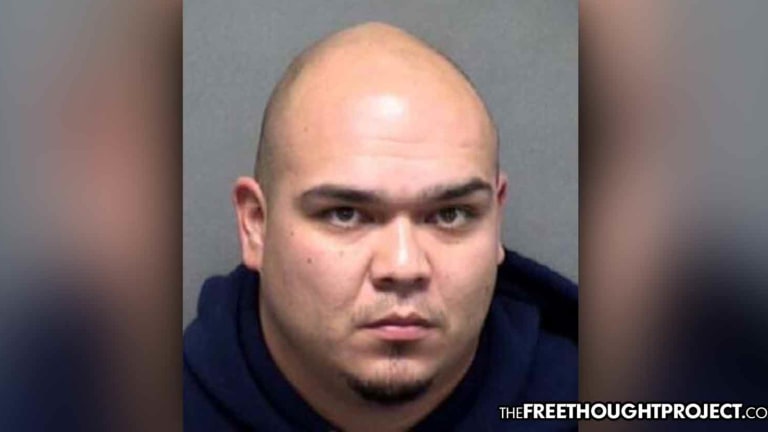 Cop Arrested for Brutally Beating Woman, Stripping Her Clothes Off to Wipe Up Blood
A deputy was arrested, again, for savagely beating a woman bloody and using her clothes to clean up the bloody evidence.
San Antonio, TX -- Cops in Bexar county are notoriously corrupt and their constant coverage in the news is evidence of this corruption. In fact, it was cops from the infamous Bexar County who shot and killed 6-year-old Kameron Prescott and faced no consequences.
Now, yet another Bexar County deputy is on the radar, again. Deputy Paul Garza, 31, was arrested for a second time this year for allegedly beating a woman so brutally that she was covered in blood. This monster then allegedly stripped his victim of her clothes and used them to wipe up her blood.
According to his boss, Bexar County Sheriff Javier Salazar, he attacked the woman early Monday.
"He knocked her to ground and kicked her in the face," Salazar said, adding the woman was then 'covered in blood.'
Luckily, during the attack, the victim was able to run away to a neighbor, who called police.
When police arrived to the call, however, deputies said Garza was gone when they got there. After searching, they were able to find him somewhere nearby.
This marks the second time in less than a year that this woman beating cop was arrested for beating women. Garza was arrested in February for family violence against the same woman. He was never fired and instead he's been on administrative leave since, otherwise known as a paid vacation.
Chief Salazar says they have been trying to fire the woman beating officer but he is in the process of appealing.
According to Salazar, Garza shouldn't even be a cop as his conduct as a deputy should have gotten him terminated years ago. Salazar explained that Garza was suspended for inappropriate force on an inmate in 2013 and lied on a polygraph test. Yet somehow, he kept his job and was allowed to stay on, hiding behind a badge as he beat women bloody.
"That to me seems like some body that should never have been working here in the first place," Salazar said, stating the obvious.
Yet, time and again, monsters like Garza are not only allowed to stay on the force, but many of them move up through the ranks and use their authority to hide their abuse.
"He doesn't seem to care," Salazar said of the deputy. "Unfortunately, the situation being that it was the same victim in February, and it appears they were in the process of reconciling, unfortunately that's something that we see with domestic violence victims."
Indeed, and as TFTP has reported at length, cops are some of the worst abusers.
The fact is that police officers in the United States have an exceedingly higher rate of domestic violence than any other occupation. The average rate of domestic violence among most families in America is around 10%. As the National Center for Women and Policing points out, two studies have found thatat least 40% of police officer families experience domestic violence. That is a four-fold increase.
A simple Google search will illustrate how police officers are arrested for domestic violence on a near-weekly basis. It is also estimated that the incident rate for domestic violence is likely far higher than reported as many women stay silent out of fear of retaliation and the fact that their abuser's brothers in blue will cover for them.
As TFTP has previously noted, a report by a government-appointed watchdog group shows that most of the time, abusive officers who commit these crimes, do so with seeming impunity. Garza staying on paid vacation after his first arrest is a perfect example of why that is so.
If you or someone you know is a victim of domestic violence, you can seek help at the National Domestic Violence Hotline website or by calling 1-800-799-7233.