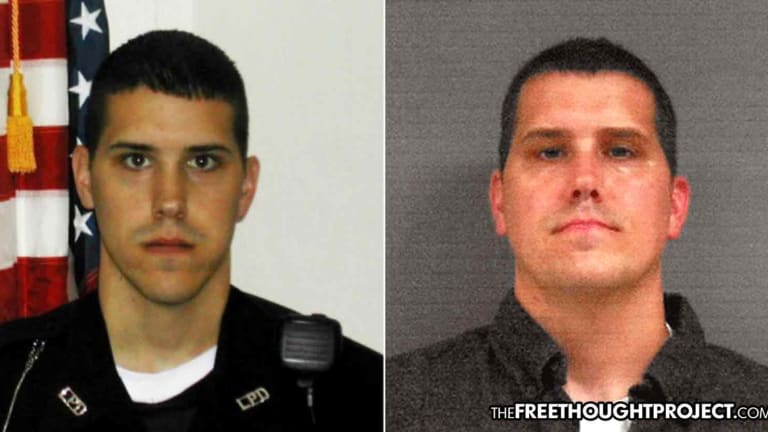 Cop Arrested for Getting 12yo Girl Drunk Before Exposing Himself to Her
According to court documents a cop in Ohio ws caught getting a little girl drunk before taking her to his vehicle and exposing himself to her in an attempt to sexually assault her.
Highland County, OH — As TFTP reports on a regular basis, cops are constantly in the news fro their criminal actions. Second only to incidents of police brutality are crimes for instances of sexual misconduct. As the following case out of Ohio illustrates, nearly half of all police sexual misconduct involves crimes against society's most vulnerable — children.
A police Sergeant is facing multiple criminal charges after he was accused of getting a 12-year-old girl drunk and exposing himself to her during a Father's Day party at his house. Roy E. Stephens, 32, a longtime officer with the Leesburg Police Department, was charged with indecent exposure and providing alcohol to a minor, which seems to be fairly lenient considering the nature of the offense.
These are misdemeanor charges and under these circumstances in the state of Ohio, the matter of placing Stephens on the sex offender registry will be up to the discretion of the judge, so there is a chance he will avoid that penalty, especially if he is a first time offender and a police officer.
Leesburg Law Director Fred Beery said that Stephens had been a police officer with the city for "A few years," but did not specify exactly how long he has been employed with the city. The complaint was made last month, after a Father's Day party at Stephens' house on June 20th into the 21st. The incident was reported to the Highland County Sheriff's Office by the girl's mother the very next day.
Stephens turned himself in on July 2nd, but was released shortly after on an own recognizance bond, which means that he didn't have to pay bail. He will be due back in court on August 6th, and until then he has been ordered to stay away from the victim and stay at his home during night hours unless he is at work.
According to the affidavit filed in court last week. Stephens gave the young girl between three and five alcoholic beverages throughout the night, and at one point encouraged her to chug one of the drinks down fast so it would "mess [her] up faster."
These allegations are a clear attempt at getting the girl drunk so he could have his way with her.
The young girl said that Stephen's later exposed himself to her in his truck after giving her more alcohol. She told the police that she felt the effects of the alcohol, but was luckily still coherent enough to prevent the encounter from escalating. It is not entirely clear how she was able to get out of the situation, or how well Stephens was known by the girl and her family.
According to Law Director Fred Beery, Leesburg Police Chief Shane Nolley placed Stephens on paid leave after the incident was first reported, but then when the formal charges were filed he was placed on unpaid leave before being fired.
These stories are far more common than most people realize. There is a disturbing trend of sexual predators becoming cops and then behaving like they are above the law.
Just this week, The Free Thought Project reported on the story of a police officer with the Richmond County Sheriff's Office who was recently arrested after getting caught masturbating at a local Gold's Gym sauna — next to other people. The staff received complaints that Deputy Lamar Andrews was exposing himself in the presence of other customers at a Gold's Gym location in Augusta, Georgia, and called police to the scene, totally unaware that the suspect was a cop as well.