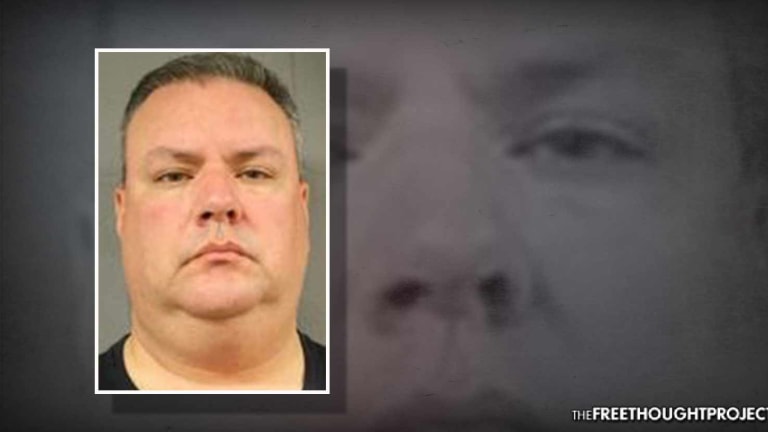 Cop Arrested for Soliciting Sex from 5yo Girl, Possessing Pornographic Images of Babies & Toddlers
A veteran police officer was caught soliciting sex from girls as young as 5 years old in an online chat room, and he was found with pornographic images of babies and toddlers.
Houston, Texas – A veteran sheriff's deputy was arrested and charged with three felony counts of possession of child pornography after he was caught soliciting sex from young girls online, and he was found with several images that depicted babies, toddlers, and young children engaged in sex acts.
Donald Dehnert, 46, joined the Harris County Sheriff's Office in 1992. He is from a family of police officers and after 25 years with the department, he found himself on the receiving end of an arrest this week when officers executed a search warrant at his home and took him into custody.
Dehnert caught the attention of police when a detective in Grand Prairie, Texas, was searching online chat rooms and found evidence that Dehnert was using one of the chat rooms to solicit sex from minors, according to a report from Click2Houston.
The detective obtained a search warrant and a SWAT Team searched Dehnert's home for several hours before confiscating multiple computers and other items that were not specified. In a statement, the prosecutor said:
"The warrant was based on an online undercover investigation where the defendant solicited sex with the undercover officer's 5- and 11-year-old daughters. The defendant was read his statutory warnings and agreed to speak with the officers. During the interview, he admitted to engaging in the chat."
The prosecutor also noted that while Dehnert deleted several images, forensic investigators were able to retrieve them. The images investigators found on the computers and flash drives they took from Dehnert's house were horrific, and ABC 13 reported that some of the victims were "under the age of two years old." There were also images of a girl who looked to be between 6 and 8 years old, "appearing to perform a sexual act."
Donald Dehnert is not the first veteran police officer who has been found possessing child pornography. A police sergeant in Florida was sentenced to 120 years in prison after he was found guilty of producing, possessing and accessing child pornography—all while he was on duty, using equipment provided by his department.
Kyle Kirby was charged after an investigation into his patrol car computer revealed images showing young children involved in sex acts. When investigators searched his police desktop computer they found "images of children naked or partially undressed after using a concealed camera to film unsuspecting children."
In another case, an officer who had been with the police department in Attleboro, Massachusetts, for 32 years was charged with attempting to engage in sex with a minor, possessing child pornography and attempting to receive child pornography. When police searched his home, they found a hidden compartment with a stash of child pornography in his bedroom.
In yet another case, a veteran police detective in Ogdensburg, New York, was found creating, distributing and possessing child pornography involving girls as young as 13 years old, on the job. He ended his 30-year career with the department by taking a plea deal, and receiving $56,000 in pay from the city while on suspension, before retiring.
In many of these cases, the officers face little or no repercussions for their actions. When a police officer in North Adams, Massachusetts, was found guilty of possessing child pornography while he was working as a "Child Exploitation Officer" in 2011, he was sentenced to just one year in prison. Less than one year after he was granted access to the internet again, the officer was found guilty or possessing and distributing child pornography—once again.
The trend of police officers who abuse their power by creating, distributing and possessing child pornography goes far beyond the fact that they are being paid by taxpayers to feed these abhorrent habits. The lifelong damage they are inflicting upon innocent children, in exchange for a moment of sick sexual gratification, serves as a reminder that these officers have no place on the streets, and they should be held accountable for their actions in the same way that average citizens would be if they were found guilty of the same crimes.