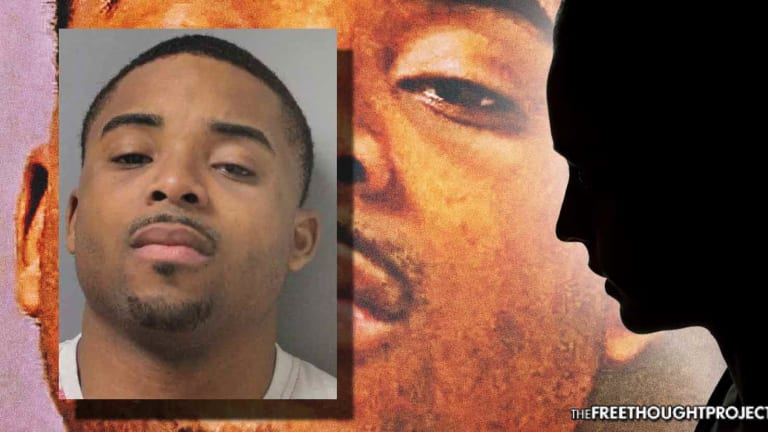 3-Year-Old Girl Fights Off Cop Who Was Brutalizing Her Mom—Officer Arrested
A police officer lied about attacking his girlfriend and strangling her while her 3-year-old tried to fight him off, and he claimed the bruises on his victim's neck and arms were self-inflicted.
Monroe, Louisiana – A police officer was arrested and charged with strangling his girlfriend after her 3-year-old daughter attempted to stop the attack, and then testified to police about his actions.
When police arrived at the home, Jonathan McMillon, 25, insisted that the bruises on his girlfriend's neck and arms were self-inflicted. Then when her young daughter spoke up and told officers that she found McMillon strangling her mother and she started throwing tennis shoes at him, McMillon changed his tune.
He then insisted that he was straddling the mother while throwing the shoes back and forth with the daughter in a game of catch. However, he still could not explain the bruises, and as The News Star reported, the officers on the scene chose to believe the girl, and they arrested their colleague.
"When presented with the three-year-old's testimony, the arrestee admitted to being on top of the victim on the bedroom floor, while he and the kid played 'catch' with the tennis shoes," the arrest report stated.
McMillon also claimed that the fight with his girlfriend was ongoing from 10 p.m. until 4 a.m. and that she started the physical altercation. He was booked into the Ouachita Correctional Center on March 19 on charges of domestic abuse battery with strangulation, and after his bail was set at $15,000, he was released on March 22.
The woman was granted a protective order against McMillon. Monroe Police spokesman Reggie Brown confirmed that McMillon was placed on administrative leave with pay, which means that he will continue to receive his full taxpayer-funded salary until an internal affairs investigation is complete.
Domestic violence perpetrated by police officers is not uncommon, and as two studies cited by the National Center for Women and Policing found, "at least 40 percent of police officer families experience domestic violence, in contrast to 10 percent of families in the general population."
This alarming percentage was explained by the fact that officers know how to work the system, they know where women's shelters are located and they have the ability to make their victims feel as though they are trapped. An equally high percentage of the police departments in the United States have no policy for dealing with officer-involved domestic violence.
In many cases, the most discipline the officer receives for domestic violence is mandatory counseling, and a small percentage of departments stated that an officer's employment would be terminated if he was charged with domestic violence more than once.
Two officers were charged with domestic violence in one week at the New Orleans Police Department in 2014. Officer Christopher Carter, a 10-year veteran at the department, was charged with one count of domestic abuse battery involving strangulation, and one count of domestic abuse battery. Detective Robert Hurst was also arrested and charged with attempted second-degree murder and simple battery after he was accused of attempting to kill his girlfriend.
In one case in Haywood County, Tennessee, Sheriff's Deputy Adrian Perkins, 29, was arrested and charged with domestic assault with battery in September 2016. He was eventually fired from the department and, as many "Gypsy Cops" do, he looked for a new job at another department.
However, Perkins' search did not extend to a different state, or even a different city—he was hired by another department in the same county. After just a few months on the job, Perkins was once again arrested and charged with domestic assault after officers reviewed footage from an incident that was caught on surveillance camera.
It remains to be seen whether Jonathan McMillon will lose his job for strangling his girlfriend while her 3-year-old daughter watched in horror and attempted to stop the attack. The fact that he blatantly lied about the incident to his fellow officers serves as a reminder that he believed he was going to get away with it because there are thousands of police officers across the United States that get away with similar actions on a regular basis.