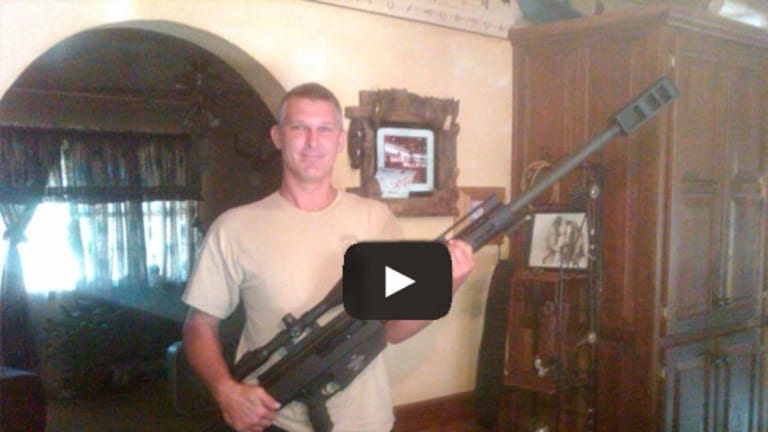 Cop Arrested for Holding a Gun to 5-Year-Old Son's Head
May 28, 2014
Officer Naaman Adcock, of the Fort Smith Police Department, was arrested and placed on paid administrative leave Tuesday.
Sequoyah County deputies said he fired a gun inside his home and held a gun to a 5-year-old's head.
Adcock is facing charges of suspicion of assault with a deadly weapon, possession of a firearm while intoxicated, reckless conduct with a firearm, felonious pointing a firearm and child endangerment, according to the Sequoyah County Sheriff's Office.
Adcock's wife Tabatha was also arrested. She faces charges of failure to protect a child, child endangerment, possession of a firearm while intoxicated and reckless conduct with a firearm.

According to KXNW 5 News, tthe incident happened just off of U.S. 64-B near the Long community around 2:30 a.m., according to Sequoyah County deputies.
One of the children inside the home ran to a neighbor's house for help immediately after hearing the gunshots, dispatchers said. Neighbors then called police, according to authorities.
When police were on the way out to the residence they stopped Tabatha Adcock as she was leaving. When questioned about the gunshots she said that her and her husband were shooting tires in the yard and there was nothing to worry about.
When deputies questioned the children, who were in the SUV with Tabatha, they both stated that Naaman Adcock put a gun to the head of Tabatha Adcock's son and threatened to shoot him, according to the report.
As the deputies continued to the residence and knocked on the door, Naaman Adcock answered the door with a gun drawn and pointed at a deputy. The two engaged in a standoff as the deputy ordered Adcock to drop his weapon.
The report states Adcock asked, "What? Oh really, are you going to shoot me?"
According to the report, the children being interviewed by another deputy, said that Adcock had thrown the 5-year-old son out of the front door before grabbing him by the shirt and pointing a gun to his head.
Naaman Adcock's bond was set at $24,000, while Tabatha Adcock's bond was $14,000.