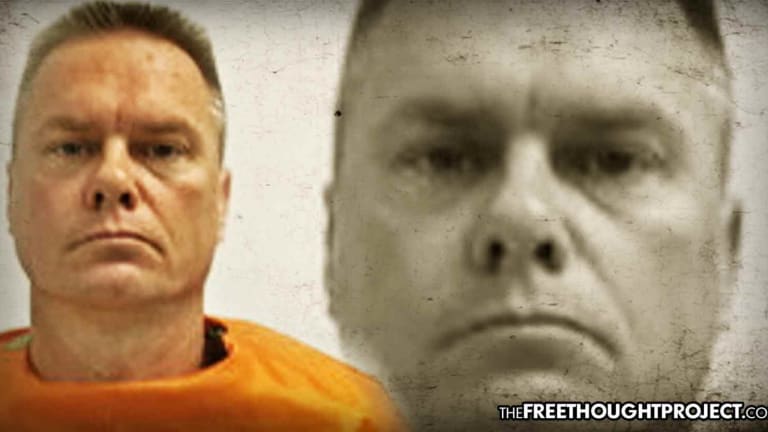 Mom Catches Cop Molesting Her Daughter in Bathroom, Cop Threatens Mom if She Tells
An Oklahoma cop was arrested after the mother of a 9-year-old girl says she walked into a bathroom and found him molesting her daughter.
Bristow, OK — Imagine for a moment that you are a parent of a 9-year-old girl. You daughter tells you she is going to the bathroom but then doesn't come back for a while. When you go to check on her, you find a grown man with his hand in your daughter's pants, molesting her. This is exactly what a mother in Oklahoma says happened to her daughter and, according to the mom, when she caught the child predator in the bathroom, things got even scarier — because the predator is a cop.
Bristow police officer Bradley Don Goodin, 45, was arrested last week and charged with three counts of lewd molestation and two counts of child sexual abuse in separate cases. According to investigators, there are multiple victims — not just the 9-year-old girl who was allegedly molested in the bathroom.
According to the probable cause affidavit, the parent of one of the victims walked into a bathroom on Oct. 5 and found Goodin with his hand inside the little girl's pants. When the mother told this monster to leave his daughter alone, Goodin is alleged to have threatened to hurt the mother and the child if they told anyone.
"The witness said she and the defendant began to argue about what she saw," an investigator alleged in the affidavit. "The witness said the defendant made several threats of bodily injury if she told anyone."
Goodin claimed to be applying itch creme to the girl's bug bites. But the mother and the daughter both say otherwise. Goodin then went on to claim his watch got stuck in the girl's clothing, which the mother mistook as molestation.
"The third time the defendant explained what happened," an investigator wrote in the affidavit obtained by Tulsa World. "He said his watchband that he wears on his left wrist got caught in the shirt the victim was wearing and that must have been what the witness saw and mistook as him touching her."
While this may be believable on the surface, when another young victim came forward, all Goodin's credibility went out the window. The second victim, an 11-year-old girl, told investigators that Goodin had touched her inappropriately more than five times, according to a probable cause affidavit.
According to police, Goodin was arrested on Thursday and his bond was set at $200,000. In spite of the heinous charges levied against their officer and the statements from the mother about what happened in the bathroom, the Bristow police department released a statement saying that he has since been placed on paid administrative leave.
https://www.facebook.com/permalink.php?story_fbid=2545530362205922&id=775895255836117
It is a sad day when police officers — the ones who claim to protect us — are caught preying on society's most vulnerable. However, there are a lot of sad days as this situation plays out like a broken record, over and over again.
Pedophiles often seek out positions of power and authority over children so they are in a position to abuse. Priests, teachers, coaches, police officers, counselors, and others are just some of the fields in which pedophiles will attempt to gain employment. Unfortunately, it's not the first time we have reported on police officers preying on children, even in the bathroom.
As TFTP has reported, a study exposed the startling fact that police officers are arrested about 1,100 times a year, or roughly three officers charged every day. Many of these arrests are over unspeakable sex crimes.
"Police crimes are not uncommon," the study's lead researcher Philip M. Stinson concluded. "Our data directly contradicts some of the prevailing assumptions and the proposition that only a small group of rotten apples perpetrate the vast majority of police crime." Although nearly 60 percent of the crimes "occurred when the officer was technically off-duty," Stinson wrote, "a significant portion of these so-called off-duty crimes also lies within the context of police work and the perpetrator's role as a police officer, including instances where off-duty officers flash a badge, an official weapon, or otherwise use their power, authority, and the respect afforded to them as a means to commit crime."
According to a report from WaPo, in cases involving allegations of sexual abuse, 72 percent of the officers were fired, and more than 80 percent resulted in convictions, the study found. There were 422 reported cases of forcible and statutory rape, 352 cases of forcible fondling and 94 sodomy cases over the seven years of the study, which Stinson called "larger than expected based on the existing research." The data search turned up 174 examples of male officers arrested in cases of "Driving While Female," in which women drivers were harassed or assaulted. About 82 percent of those cases ended in convictions.
Despite the high rate of conviction, the sentences handed out are insultingly low.