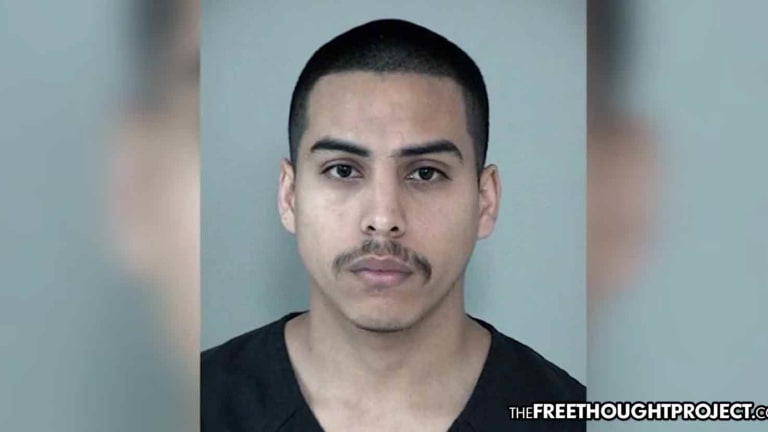 Cop Arrested for Pulling Over Young Women for Speeding, Then Raping Them
A Texas cop was arrested and charged with raping a woman he pulled over for a traffic citation, forcing her to have sex for her freedom.
Arcola, TX — Officials in Arcola are asking anyone with knowledge of alleged sexual acts by one of their police officers to come forward. They believe the woman he allegedly raped following a traffic stop may not be his only victim.
Hector Aaron Ruiz, 24, was arrested last week and charged with coercing a woman he pulled over on November 16th into a sex act. In other words, he used his badge to get sexual favors from those victims he was pulling over. A unnamed woman (victims of sexual assault are not identified out of respect for their privacy) said Ruiz pulled her over, told her to follow him in her car, took her to a dark place, and demanded sex.
Fort Bend County District Attorney Brian Middleton released the following statement Thursday morning which reads in part:
The utter violation of public trust that these allegations represent is heinous and disgraceful. My office will prosecute these criminal offenses to the fullest extent possible under the law.
The victim apparently knew better than to report Ruiz to his own police department. Instead, she went to Manvel PD to report being raped by Ruiz following a reported traffic stop for moving violations. Manvel contacted Arcola PD, then the Texas Rangers took over the investigation.
Ruiz is believed to still be in jail having a $400,000 bond and apparently unable to bond out. DA Chief Public Integrity Prosecutor Terese Buess said:
This is a horrible abuse of power, we take it very seriously…all we ask is witnesses who have information come forward and not be afraid to tell the truth.
The arrest comes amid a number of police officers who have found themselves on the wrong side of the law for coercing women into sex acts.
One story we are following closely is that of AZ DPS Trooper Tremaine Jackson. AZ DPS received so many complaints about officer Jackson they actually set up a tip line for victims to be able to come forward. Jackson, like Ruiz, had a similar modus operandi. According to an AZ DPS press release:
On September 10, 2019, after investigating complaints made by the public, Arizona Department of Public Safety (AZDPS) detectives arrested 43-year-old Tremaine Jackson on charges of sexual abuse, sexual extortion, kidnapping, harassment and fraud. Thus far, eight victims have been identified. Jackson worked for AZDPS for 13 years and was most recently assigned to the department's Metro Motors District.
Following the press release and subsequent media coverage, seven more victims came forward with their own tales of sexual favors demanded by the trooper. It is unclear how many more have come in since the tip line tip line was created.
Since Anna Chambers revealed how two NYPD officers raped her after catching her with weed, it seems more women are empowered to come forward and police the police, holding those in power accountable for their despicable actions.
Now, all we need are convictions of guilty officers to translate into real jail time and not slaps on the wrist. More victims in both cases need to come forward to help prevent defense attorneys from victimizing the women all over again like they did with Chambers by calling her character into question. When multiple victims come forward, the women's voices can be heard and believed.