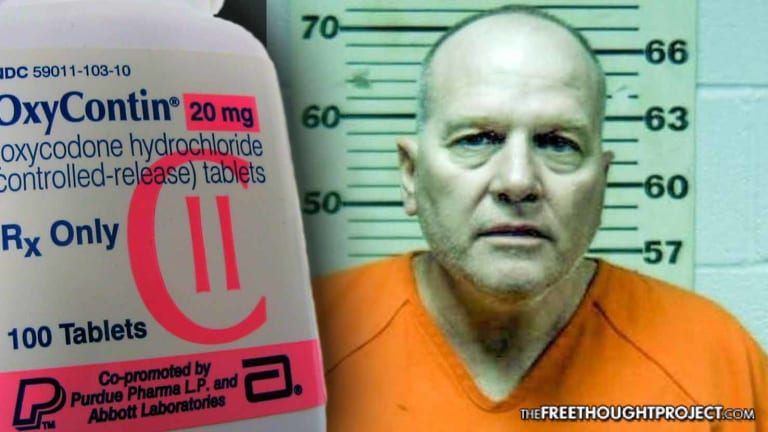 Cop Arrested for Robbing a Disabled Man of His Opioid Prescriptions, While On Duty
A police sergeant was caught stealing opioid prescriptions from a disabled man, attempting to sell the drugs, and then begging the man he stole from not to report him.
Hagerstown, Maryland – A police officer who has been a member of his department for more than 15 years was arrested and charged with distributing and possessing prescription opiate medications, which he stole from a disabled man while he was on duty.
Christopher Michael Barnett, a sergeant with the Hagerstown Police Department, was arrested after he was caught stealing from a disabled man who was physically unable to leave his bed. WJLA News reported that Barnett entered the man's apartment using "a phony pretense," and he then began to go through the man's bottles of prescription painkillers.
When a caregiver arrived later and noticed that several of the man's pills were missing, he called the police department, and Barnett was the one who was put on the phone. The report claims that Barnett was quick to hang up the phone, and decided to return to the apartment in person.
When Barnett arrived, the man was able to film him, and he caught the officer on camera promising to return the drugs and begging the man and his caregiver not to report the incident.
However, a news release from the police department claimed that Barnett was caught attempting to sell the drugs, and "Investigators were presented with video footage of Sergeant Barnett providing a prescription narcotic to another individual at a location within the city of Hagerstown."
Hagerstown Police Chief Victor Brito confirmed that after he was given the video, he moved to arrest Barnett, who has now been charged with distribution of controlled dangerous substance, possession of a controlled dangerous substance, malfeasance in office and theft under $100.
"When we received this information, we acted as quickly as we do in any criminal matter to address the issue," Brito said. "This will be treated the same as every case we handle on a regular basis, and he will be rightly afforded due process of the law."
The police chief also said he was "sickened by this criminal act," and he does not believe Barnett's conduct reflects the values of other officers in the department.
"I cannot and will not make any excuses for this betrayal of our agency, badge, and community," Brito said. "I'm personally deeply disappointed and quite frankly sickened by this criminal act. That said, I know in my heart that the men and women I serve with at the Hagerstown Police Department perform their duties with integrity and selfless dedication every day."
While the police chief was adamant that this is the first case of such behavior he has seen within the Hagerstown Police Department, it should be noted that, as The Free Thought Project has documented on numerous occasions, this type of behavior happens in police departments across the country.
A police chief in Lee, Massachusetts, was caught stealing nearly $60,000 from a children's Christmas charity fund; police officers in Denver, Colorado, were caught on video stealing blankets from homeless people; and a police officer in Grants, New Mexico, was caught stealing marijuana from his police department by footage captured on his own body camera.
In the case of Sgt. Christopher Michael Barnett, he has been suspended without pay, and he is now awaiting trial.