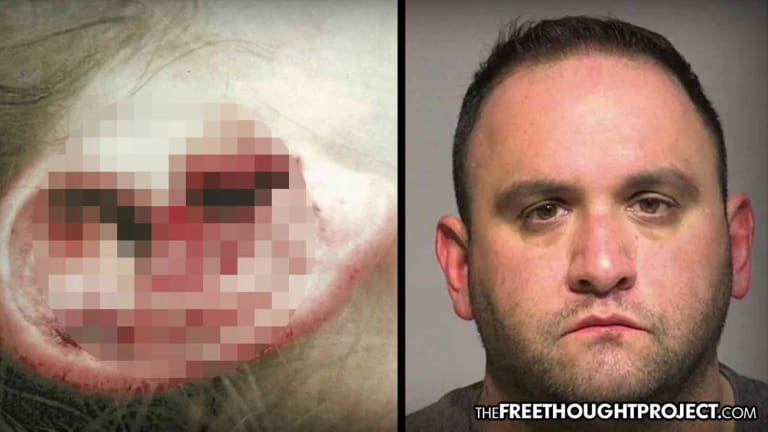 Veteran Cop in Jail After Savagely Punching and Stomping his Own Girlfriend
A Milwaukee detective is in jail this week after being accused of horrific acts of violence against his own girlfriend in which he stomped her head and beat her.
Milwaukee, WI — A veteran detective from the Milwaukee Police Department is sitting in jail after he was accused of grabbing his girlfriend, punching her in the face, throwing her to the ground and then stomping on her head. The department has since opened an internal investigation into Detective Jason Rodriguez, 39, who was arrested this week after the violent spat.
According to police, a neighbor called 911 when a bloody and battered woman showed up banging on their windows, begging for help early Tuesday morning.
"It's still wrong. Any kind of violence is inexcusable," said Thomas Zientara, neighbor.
According to the police report, the victim confronted Rodriguez over an alleged affair and the pair got into a heated argument. The victim apparently began throwing dishes on the ground before Rodriguez began hitting her with those smashed plates.
According to FOX 6, the victim told police that Rodriguez "threw her on the ground and began stomping on her ear" before smashing her phone. She told police this wasn't the first time.
In the police report, the victim said Rodriguez once hit her across the face like he was "trying to pitch a baseball when he swung to hit her."
Rodriguez initially told police that he "never touched" the victim. However, her injuries were so severe, they arrested him. Police also found a bloody pillow and its case in the bathtub that were soaking wet, "as though someone may have tried to clean them," to hide the evidence.
"Violence in the world is way too much, be it in Wisconsin or be it in a different country. It's sad, really sad," said Zientara.
Milwaukee Police have refused to release any further information on the status of Rodriguez or his job. According to FOX 6, the District Attorney's Office has received the case from Greenfield Police and are reviewing it for charges.
As TFTP has reported, police in the US beat their wives and girlfriends at nearly double the national average. And, a report by a government-appointed watchdog group shows that most of them do so with seeming impunity.
A study conducted by the Domestic Violence Task Force called Domestic Violence in the Los Angeles Police Department: How Well Does the Los Angeles Police Department Police Its Own? revealed that performance evaluations of cops with a history of domestic violence are largely unaffected. The study of the LAPD examined 91 cases in which an allegation of domestic violence was sustained against an officer.
Over three-fourths of the time, this sustained allegation was not mentioned in the officer's performance evaluation.
Twenty-six of these officers (29%) were promoted, including six who were promoted within two years of the incident.
The report concluded that "employees with sustained allegations were neither barred from moving to desired positions nor transferred out of assignments that were inconsistent with the sustained allegation."
Sadly, it is estimated that many of the abused women never come forward as they know the likely result -- which is getting shamed by the department for reporting it and potentially more abuse.
Diane Wetendorf, a specialist on police abuse, points out the most common fears when reporting police domestic abuse in her handbook:
If your abuser is an officer of the law, you may be afraid to:
Call the police — He is the police.
Go to a shelter — He knows where the shelters are located.
Have him arrested — Responding officers may invoke the code of silence.
Take him to court — It's your word against that of an officer, and he knows the system.
Drop the charges — You could lose any future credibility and protection.
Seek a conviction — He will probably lose his job and retaliate against you.
These fears can make someone feel incredibly trapped and feel like there is no way out.
If you or someone you know is a victim of this type of abuse we encourage you to no longer remain silent. As long as people go unpunished for their abuse, they will continue their abuse.