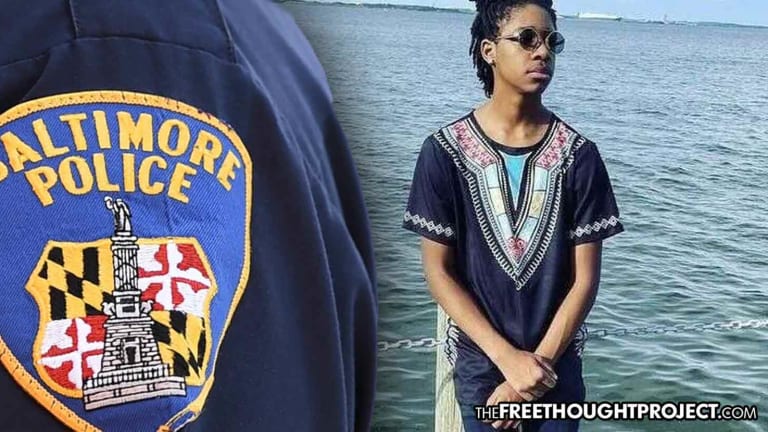 Cop Arrested, Suspected of Killing His Son, Stuffing Him into a Hole in the Wall
A Baltimore cop is being held without bond after police made a startling discovery while conducting a welfare check.
Baltimore, LA -- Judge Ronald Karasic was asked by Latrice Banks, wife of Eric G. Banks Jr., on June 28th to issue a restraining order against the once U.S. Marine and current Baltimore police officer but the judge refused. Less than two weeks later, Dasan Jones (15) would be found dead and officer Banks will likely now be charged with his murder.
Banks had asked the judge to protect her family from the officer, her husband, for emotional abuse and stalking behaviors she claimed she was experiencing. After being denied the court ordered protections she sought, Mrs. Banks was forced into sharing custody of the three children. After not being able to speak on the phone with Dason, who went by his initials "DJ", officers were asked to check on him on Tuesday.
Officer Banks was already on suspension for an undisclosed departmental infraction when officers arrived at his townhome in affluent Anne Arundel County located at the 1400 block of Stoney Point Way in Curtis Bay. As officers were looking through the house trying to find DJ, Banks told them the hole in the wall in the upstairs loft was where he kept his "gun safe".
Upon further investigation law enforcement found DJ unresponsive hidden inside the hole in the wall and covered up with some sort of plastic. According to the Capital Gazette:
Banks initially told responding officers that the teenager had left the house, leaving his belongings behind, police said. Officers found the boy inside an upstairs room. Police executed several search warrants, interviewed witnesses and collected "multiple items of evidence" at the scene, officials said.
DJ Banks died on Wednesday and his cause of death is still being investigated. Officer Banks apparently attempted to impede the investigation on Tuesday with his comments alleging DJ was not home, and after officers found the young man, the cop now suspected of his murder, became combative. He allegedly attempted to take a female officer's firearm and appeared to want the officer to shoot him as a result. Instead, she called for backup, and Officer Banks was taken into custody. In the arrest report the officer wrote:
Mr. Banks stated multiple times 'you're gonna have to end this' as we were wrestling over the firearm.
Because a cause of death has not yet been determined, nor who was responsible for his death known at this time, the officer is being held on charges related to the assault on his fellow officer. While it is possible someone else may have killed DJ, or maybe he suffered some sort of natural death, all indications point to the disturbed officer as the primary suspect.
On Thursday, Assistant State's Attorney Jason Miller argued Banks should be held without bail saying the officer "made statements that he is homicidal and suicidal." Miller told Anne Arundel County District Court Judge Danielle Mosley:
He admits to officers that he moved his son's body from one location in the home, and secreted it in another, Your Honor...He has shown that he is not afraid to resort to violence.
Mosley denied Banks and his lawyer's request for home confinement saying the officer is a flight risk and a danger to himself as well as the community. The judge agreed, denied bail, and Banks is being kept in protective custody at the moment charged with assault on a police officer and resisting arrest with many more charges expected to come later.
He has now been placed on unpaid leave. More charges are expected in the death of his stepson. Friends and family remember DJ as a gifted student who loved playing the violin and wanted to be a doctor.
As TFTP has consistently reported, and as this case illustrates, police officers in the United States have an exceedingly higher rate of domestic violence than any other occupation. The average rate of domestic violence among most families in America is around 10%. As the National Center for Women and Policing points out, two studies have found thatat least 40% of police officer families experience domestic violence. That is a four-fold increase.