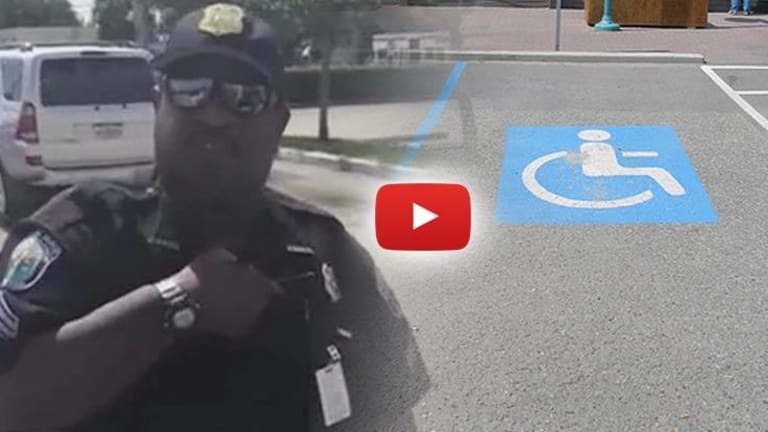 Cop Assaults Disabled Combat Vet on Video for Legally Parking in Handicap Spot and Keeps His Job
In spite of the assault being captured on video, a Florida cop remains on the job with the blessing of the court.
Riviera Beach, FL -- After his gross incompetence led him to assault an innocent disabled veteran, Sgt. Gary Wilson with the Riviera Beach police department was charged with misdemeanor battery and criminal mischief. However, because police in America are subject to a different set of rules and held to lower standards, Wilson was found not guilty of battery -- in spite of the entire assault being recorded.
During the trial, Wilson told the jury that it was James' fault he assaulted him because he responded with hostility when being accused of a crime he didn't commit.
"He immediately started cursing me," Wilson said of James. "I don't think it was warranted."
Isiah James is a combat veteran who served two tours in Iraq and one in Afghanistan. During his deployment, James took fire and was hit with a blast from an IED, which left him medically discharged and permanently disabled.
Because of his disability, Florida issued James a handicap hanging tag since he has trouble walking long distances. However, James' disability was not an issue with Officer Wilson of the Riviera Beach police department.
Upon pulling into a Walgreen's parking lot last year, James was confronted by this officer who was on a mission to harass. Officer Wilson confronted James and became not only verbally abusive but physically too.
Luckily for James, he recorded the assault.
"Officer, I'm a damned disabled veteran," James explains to Wilson, who thinks he's captured some criminal mastermind. However, James is squeaky clean.
While trying to tell Wilson that he is disabled, and his handicap tag is legitimate, Wilson slaps the phone out of his hand subsequently cracking the screen.
After being physically assaulted by Wilson, James proceeds to unleash a verbal lashing fit for its recipient. The resultant video is as infuriating as it is encouraging as James stood his ground and refused to be bullied by this cop who had nothing better to do.
For endangering an innocent man's life and assaulting him for no reason, officer Wilson will not face consequences. In fact, after proving he is unfit to wear a badge and carry a gun, Wilson remains on the job.
Sadly, the treatment James received is anything but an isolated incident. Veterans are often the targets of police officer aggression.
Last year, we reported on the story of Anthony Hill, 27, who was gunned down by a police officer during a psychotic breakdown. Hill was completely naked and unarmed when he was killed. 
Before the Hill incident, a Louisiana cop was indicted after surveillance video showed him gun down an unarmed veteran outside of a West Monroe gas station. 
The list goes on.
[author title="" image="https://tftpstagingstg.wpengine.com/wp-content/uploads/2016/03/magorist-e1456948757204.jpg"]Matt Agorist is an honorably discharged veteran of the USMC and former intelligence operator directly tasked by the NSA. This prior experience gives him unique insight into the world of government corruption and the American police state. Agorist has been an independent journalist for over a decade and has been featured on mainstream networks around the world. Follow @MattAgorist[/author]