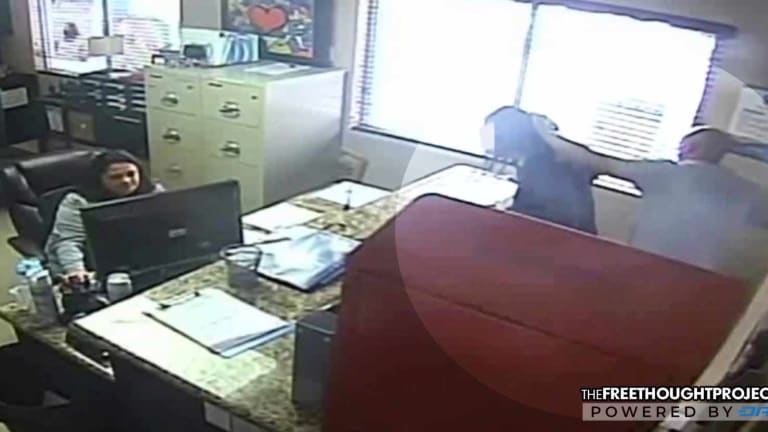 WATCH: Cop Savagely Beats His Own Daughter at School, and No One Tries to Stop Him
A police officer was caught on surveillance camera beating, slapping, and whipping his teenage daughter at her school, while office employees watched and did nothing to intervene.
Disturbing surveillance camera footage has been released that shows a police officer confronting his daughter after she was sent to the principal's office for disrespecting her teacher—and his response is so violent that it has even led to criticism from advocates of corporal punishment.
Footage from the incident, which occurred in March, shows Officer Raymond Emilio Rosario entering the school office. Moments later, his 14-year-old daughter entered, and he immediately slapped her across the face and then hit the back of her head. Surprisingly, the officer's violent actions didn't seem the faze the office secretary who never moved from her seat.
Rage continued from Rosario in front of everyone in the office and anyone who may have witnessed it while walking by the office's glass doors. The enraged officer pushed his daughter's head to the side, grabbed his belt and began whipping her with his belt. The humiliation of being whipped in public was followed by a slap to the face and finally a closed-fist punch to the jaw.
While Rosario may have been attempting to discipline his daughter, the manner in which he did so, crossed the line between what is legal and what is criminal. As a result, days later his fellow boys in blue arrested him and charged him with child abuse.
At the time of the attack, not one member of Pinecrest Grove Preparatory Academy intervened to stop the angry officer or to call 911 for assistance as they watched the child get slapped, punched, whipped and have her hair pulled by the man who was supposed to protect her from such abuses. However, according to a report from Miami's ABC News 10, school officials did notify Rosario's superiors, and the officer turned himself into Turner Guilford Knight Correctional Center.
Rosario was charged with "child abuse with no great bodily harm," and was suspended with pay. However, presumably, if a parent had beaten, assaulted, whipped, and pulled their child's hair in the school office, one could bet the outcome for that citizen would have been quite different. Not only would police have arrested such a parent, there is a great chance they would also be tased, cuffed, and stuffed into a squad car.
None of that happened to the career officer, of course, leading many to conclude there is simply a double standard for police officers. It is unclear if Rosario was on duty at the time the assault took place. If he was on duty, it poses a different scenario. Where else in America can someone regularly beat another person and be allowed to continue cashing in a paycheck? All too often, when police officers are clearly guilty of crimes, such as the one the closed circuit cameras caught Rosario committing, they are given a paid vacation until the smoke clears and they are allowed to return to work.
However well-intentioned the parent may have been, Rosario engaged in a myriad of faux pas. Not only did he scream at his daughter, a female, but he slapped, beat, whipped, and pulled her hair. The old saying goes, "You never know what goes on behind closed doors." We can only imagine, if Rosario behaves this way in public, there is no telling what he does to the poor child in private.
If you would like to share your thoughts on Officer Raymond Emilio Rosario's conduct, call (305) 476-5423 or visit the Miami-Dade Police Department's Facebook page.
Watch the surveillance video of the assault below:
https://m.youtube.com/watch?v=lMehEoZbStk