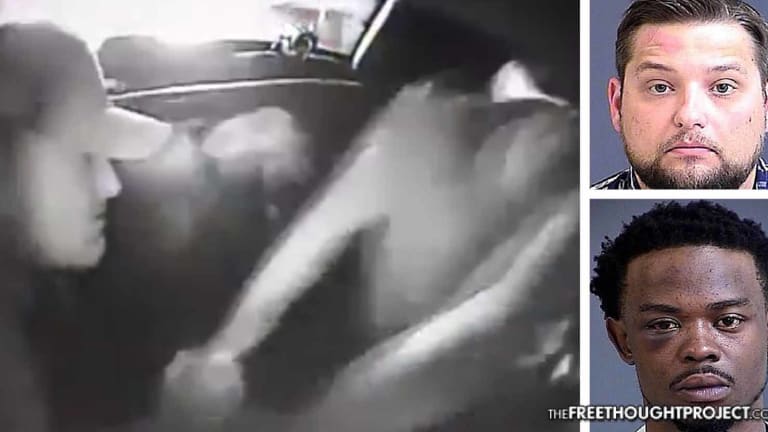 WATCH: Cop Hailed as Hero for 'Fearing for His Life' & Beating a Shackled Man During Traffic Stop
During a traffic stop, a man was shackled and beaten by a cop who was later arrested for it. However, that same violent cop is now being hailed as a hero.
North Charleston, SC — James Terry III has a long rap sheet of traffic tickets. Mounting fines, suspended licenses, and constant harassment from police make it extremely hard to get out from under this burden. So, when he was stopped last November, and targeted for revenue collection once again, naturally, he was agitated. However, his verbal anger was quickly met with police force, which got progressively worse until he was finally in shackles having his face beaten in by officer Leroy Hair.
On November 15, a North Charleston police officer pulled over Terry at a convenience store for allegedly speeding. Terry, who was obviously tired of getting pulled over and harassed, got out of the vehicle and began verbally protesting his stop.
Terry was being pulled over by the same department responsible for hiring Michael Slager — who pleaded guilty earlier this year after murdering a fleeing unarmed man, Walter Scott, by shooting him in the back, on video. These interactions with Charleston police can and have proven to be quite dangerous. So, it was not the best decision for Terry to get out of the car, as he quickly learned.
As Terry voiced his complaints, officer George Fogle tackled him to the ground and placed him in handcuffs. Terry, although still verbally upset, was not physically resisting. However, as officer Kyle Decedue showed up, both officers walked Terry over to the patrol car and smashed his face into the hood. This was enough for Terry who could no longer stand the abuse. He began flailing around in anger.
Decedue pulled out his flashlight and began beating Terry, who was then shackled at the ankles. Remember, all this violence and escalation of force is all over a minor traffic violation.
After Terry was handcuffed and shackled, officer Hair shows up to join in on the lynching arrest. The in-car video showed Hair grab Terry by the chain of his handcuffs and violently yank him back into the car only to start pummelling his head.
"(Hair) did strike and punch Terry multiple times about the face while Terry was handcuffed and in the backseat," a South Carolina Law Enforcement Division (SLED) agent wrote in an arrest affidavit.
Three months after the incident, Hair was arrested after a SLED investigation found that he used excessive force on Terry during the stop. He was charged with third-degree assault and battery.
Terry and his family finally thought they may see some justice for his years of harassment and violent escalation by the Charleston police department. However, as they found out this week, Hair will not face any accountability.
In fact, not only will Hair not face accountability, he is now being hailed as a hero in the town. Seriously.
As the Post and Courier reports, Hair's attorney, Edward Phipps of Charleston, called Hair a "victim" for being prosecuted after pulling a violent person clear of other officers.
"That really saved everybody," Phipps said. "He's more of a hero than anything."
"I'm not sorry because I didn't do anything wrong," Hair said of beating a shackled man. "I was helping the officers out, and at the end of the day, we all went home."
Robert Bogan, a St. Matthews attorney who prosecuted the case, did not agree.
"This is about holding a police officer accountable," Bogan said. "Police officers cannot be judge, jury and executioner. It ain't right."
Sadly, however, a jury agreed with the concocted story about Hair heroically saving his fellow officers from the likes of a ferocious man who somehow caused officers to fear for their lives — in spite of being handcuffed and shackled.
In his own defense, Hair even said those exact words.
"I feared for my life," said Hair. "He was chomping away trying to get my hand."
According to the Courier, SLED Agent David Owen contended that Hair had left out key explanations during an interview, and Bogan alleged that the officer wanted to give Terry an "attitude adjustment."
"He could have done the same thing (as the other officers)," Bogan said. "He could have backed up and closed the door."
For some reason, the Post and Courier cut off the end of the video which shows Hair begin to punch Terry in the face repeatedly. However, below is a news clip that followed the incident which shows the entire assault.
Terry was paid $250,000 by the department for his abuse while in custody.