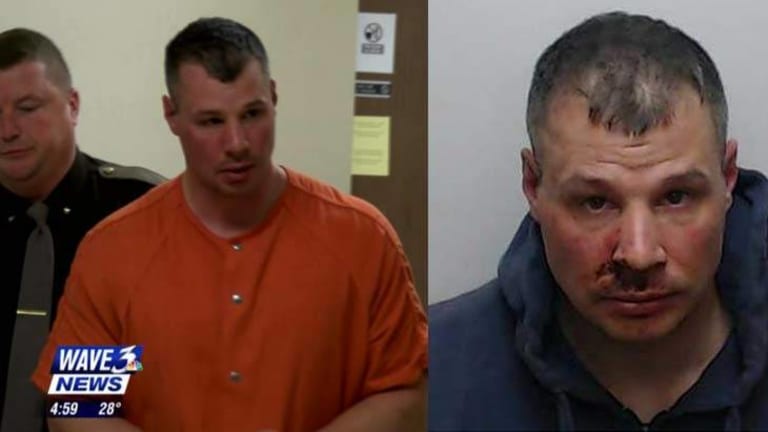 Cop Beat Wife While She's Driving, They Crash, He Kept Beating Her Until a Citizen Stopped Him
A Good Samaritan saved the life of a woman when he stepped in after witnessing an LMPD officer kick his wife in the head and begin to strangle her on the side of the road.
Jeffersonville, IN -- A Louisville Metro Police officer has been arrested in Indiana Sunday after a Super Bowl Party and is facing battery charges after a car accident involving him and his wife.
Jonathan Osborne, 34, of the LMPD, was the passenger in a vehicle driven by his wife, travelling down a county road when the vehicle swerved off of the road and rammed a tractor.
A man was in a car behind them and witnessed the crash. According to WAVE3, the witness said his vehicle was behind the car containing Osborne and his wife heading west on County Road 403 when the Osborne's car made a sharp right turn and hit a parked tractor that struck the building.
When the man and his passenger stopped to make sure everyone was free from injury, Osborne began cursing at them.
According to the report, Osborne then walked over to his wife, punched her in the head and began kicking her in the head after she fell to the ground. Osborne then got on top of her and began strangling his wife.
At this point, the man in the vehicle behind Osborne intervened by throwing Osborne off of his wife. The Clark County Sheriff's deputy who arrived first on the scene reported that he saw a man (now a Good Samaritan) on top of another man (Osborne), in an apparent attempt to hold him down.
Luckily for Osborne's wife, the Good Samaritan decided to stop, or she could be dead. Osborne could've even claimed that it happened in the wreck and police would have believed him because he was a cop.
But luckily a real hero stepped in, and justice seems to be prevailing in this situation.
According to police reports, Osborne appeared "very intoxicated" and smelled strongly of alcohol. He was then placed in handcuffs before being checked by EMS for injuries.
According to the report, police said they had to place a shield on Osborne's face because he tried to spit on officers. They also had to restrain Osborne's feet while taking him to the Clark County Jail after he tried to kick out a window in the police car.
This LMPD police officer now faces charges of aggravated battery, domestic battery, battery, resisting law enforcement, criminal recklessness and public intoxication.
A spokesman for the LMPD released the following statement in regard to this incident:
"We are aware of the charges our officer is alleged to have committed in Indiana. Officer Osborne is afforded due process and we will await the results of his case in court. In the meantime, the Chief has initiated a Professional Standards investigation into this matter and, therefore, in accordance with KRS 15.520 we are prohibited from speaking further on this particular case."
This is most likely not the first time Osborne has beaten his wife, especially considering the fact that he was willing to do so in front of witnesses. There is no telling how many doors Mrs. Osborne has previously "fallen into" or how man "slips in the bathroom" she's had.
The fact is that studies show police officers beat their spouses at twice the national rate.
A study conducted by the Domestic Violence Task Force called Domestic Violence in the Los Angeles Police Department: How Well Does the Los Angeles Police Department Police Its Own? revealed that performance evaluations of cops with a history of domestic violence are largely unaffected. The study of the LAPD examined 91 cases in which an allegation of domestic violence was sustained against an officer.
Over three-fourths of the time, this sustained allegation was not mentioned in the officer's performance evaluation.
Twenty-six of these officers (29%) were promoted, including six who were promoted within two years of the incident.
The report concluded "employees with sustained allegations were neither barred from moving to desired positions nor transferred out of assignments that were inconsistent with the sustained allegation."
This incident comes on the heels of another horrifying act by a police officer that happened in January. Officer Sierra Shivers, of the North Charleston police department, was accused of threatening to arrest his girlfriend's family members if she didn't have an abortion.
On the way home from having the abortion, Shivers then beat his girlfriend senseless because the appointment made him late for his job as a police officer.
Hopefully the compelling evidence in this particular case is enough to keep Osborne away from his abused wife for a long time.