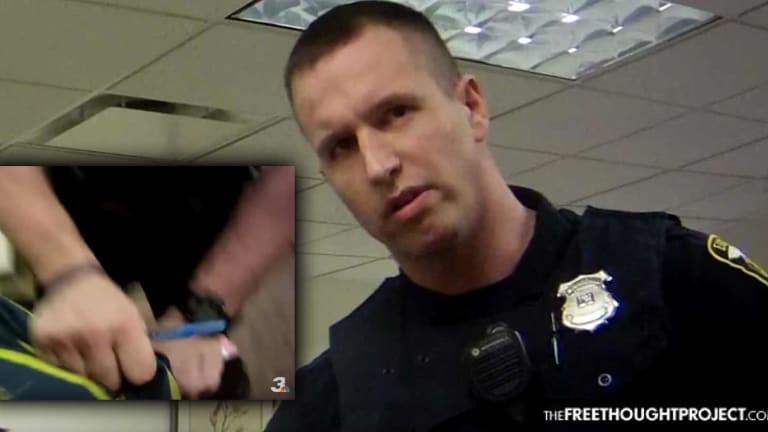 Cop Who Beat Man in Viral Video, Caught on Video AGAIN—Attacking Handcuffed Teen Girl
The Ohio cop who was seen beating a man over a suspended license is seen in a new video, this time, attacking a handcuffed teen girl.
Euclid, OH — The Euclid police department is receiving some much-deserved attention this month after a viral video showed a police officer savagely beating a man who was in no way a threat, or resisting. Officer Michael Amiott was suspended this week for repeatedly punching Richard Hubbard in the face over a suspended license. However, as a newly released body cam video shows, this violent cop's aggression is not limited to just defenseless men — he also beats up on handcuffed children.
After Amiott was seen beating Hubbard, local media attempted to request his past use of force incidents. When the department sent them over last week, they conveniently omitted any mention of the video below which shows this officer assaulting a handcuffed child — in spite of the report mentioning a use of force incident.
However, WKYC was able to obtain it.
Amiott, who was allowed to resign from his old department amid a corruption scandal was quickly hired on in 2014 with Euclid. He'd spent less than one year on the Mentor police force as a rookie before he was nearly fired for lying about a traffic stop he initiated.
Instead of firing him, however, the Mentor department allowed him to resign and he simply hired on at Euclid shortly after. On his application to Mentor police, Amiott said he wanted to be a cop — not because he wanted to help people — but because he enjoyed the "danger/thrill" of law enforcement.
Apparently, this abusive officer gets a thrill out of hurting defenseless handcuffed children.
While working at the Euclid public library back in April, two girls tried to enter the library one hour before children are allowed to be there without parents — the horror.
However, this seemingly harmless action was met with handcuffs and force by Amiott — who apparently enjoys the thrill and danger of attacking high school girls.
According to Amiott's report, which, as history shows, could very well be all lies, the teens were outside the front door of the library causing a disturbance, particularly one 16-year-old girl.
"I told her she needed to come inside with me," Amiott noted in his report. "I was going to take her in the office to complete a juvenile fact sheet for disorderly conduct and give the library her information to review to determine if her library access should be restricted."
"I attempted to take her arm to escort her. She continually pulled away from me saying, 'Get the [expletive] off of me'," Amiott wrote.
For not complying fast enough, Amiott then forced the 16-year-old girl to the ground and handcuffed her before bringing her into the library to charge her with disorderly conduct.
The video picks up when another officer arrives wearing a body camera.
"She continued pulling away while shouting, 'Don't touch me, get the [expletive] off me'," Amiott wrote.
Apparently having enough back talk from a girl who was upset she couldn't walk into the library without being harassed by cops, Amiott made his move to seek his thrill.
He threw the young girl — who was already in handcuffs — onto the floor, while driving his knee into her back. The child is then forcibly searched as Amiott maintains his 200 pounds of knee in her back.
While the video is still rolling, the teen's mother walks in to find her daughter forced down on the ground with Amiott mounting her.
Whether or not Amiott received any discipline for this incident is unclear as the city has not responded to requests. However, it is unlikely.
Fast forward a few months, to just days before he was seen on another video beating Hubbard, and he beat an innocent recreation department worker as well.
Sean George was entirely innocent and was only asking officers why they had a teen detained on the ground. According to George, that's when Amiott snapped and began beating him.
For asking Amiott a question, George was thrown against the car, then thrown to the ground and pepper sprayed.
Officer Michael Amiott is the epitome of everything wrong with police in America. His 'smash some heads' mentality has no place in keeping the peace and all of his superiors who've protected and hired him over the years are complicit in perpetuating the problem.
When cops can attack handcuffed children, beat people for asking questions, and unleash a fury of fists on a man for a driving infraction — all without being fired — something is horribly wrong. This is why people are mad.