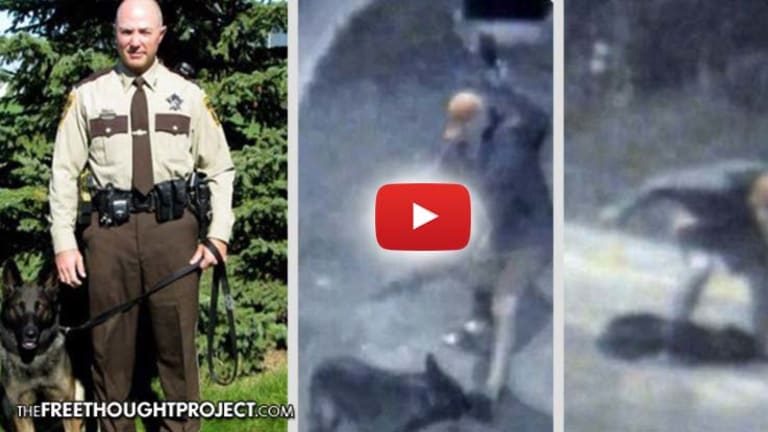 Cop Sexually Assaults Multiple Women, Beats Own K9 on Video, Found Guilty -- Gets Job Back
A police officer was caught on video and found guilty of beating and strangling his K9, and he sexually assaulted multiple women in a casino -- gets job back.
Ramsey Co., MN -- In April of this year, Ramsey County Deputy, Brett Arthur Berry was fired after he was charged and convicted of assaulting a public safety dog and animal cruelty for severely beating his dog at a K9 training seminar. In spite of being found guilty and being sentenced to a year of probation, this 'model cop' was quietly rehired earlier this month.
In June of 2015, surveillance footage from the Black Bear Casino in Carlton, where the seminar took place, captured this sadistic officer as he beat, strangled, and hurled his K9 partner to the ground.
In spite of the video evidence showing his cruel behavior, Berry was allowed to keep his job for almost an entire year after the incident and wasn't fired until April 2016 -- months after he'd already been sentenced.
However, last month, an arbitrator overruled the sheriff's office's attempt to fire him for the conduct and forced the department to take back this dog beating cop.
"These kinds of incidents tarnish the badge," Ramsey County Chief Deputy Jack Serier said of Berry's behavior, apparently unable to fight the decision of the arbitrator. "It's very much a difficult situation."
"There are times when someone does something so egregious that you have no choice but to take very harsh discipline," Serier said.
However, state arbitrator, Gil Vernon disagrees.
According to the Pioneer Press, in his decision, Vernon wrote that the sheriff's office did not sufficiently consider mitigating factors in reaching its decision, including Berry's low risk for future misconduct. He also noted that Berry had taken responsibility for his actions, had a nearly 20-year incident-free employment record, and had sought alcohol abuse treatment.
After Vernon rationalized the dog beating, Serier gave in, and in a glaring example of cognitive dissonance, he rehired the deputy, noting, "the arbitrator in his case has ruled and (now) it is our responsibility to ensure that Deputy Berry serves the citizens of Ramsey County with honor, truth, respect and responsibility."
Imagine if you are a civilian and you beat one of your coworkers on video, are charged for it, get convicted of it, and get fired for it, and some higher-up comes down and says to your boss, "hire him back." Would this be a rational decision?
However, if you are a public servant and your ostensible duty is to protect society -- it is totally okay to be convicted of a heinous act of animal cruelty and get your job back.
This decision also completely ignores the sexual assault that took place inside the Casino, before Berry beat his dog. Buried in an internal investigation of the deputy during the time, and not made public until last week, are the details of Berry's drunken sexual assaults inside the casino bar. According to the Star Tribune:
Ramsey County sheriff's deputy Brett A. Berry forcibly kissed and groped patrons at the Black Bear Casino before beating his K-9 partner in frustration several minutes later, according to documents released Tuesday.

An internal affairs investigation into Berry's actions on June 15, 2015, said that he acted in an "aggressive manner" toward three people while drinking at the casino's Cobalt lounge in Carlton, Minn.

"His conduct in the Cobalt Lounge toward [redacted] patrons was disrespectful," said the investigation report. "He agreed that his conduct … was inappropriate."
During the investigation and since the incident, none of these details were released. Not until he was already hired back did the public find out that Berry was not only a dog abuser -- but also a sexual predator.
Luckily for the 7-year-old German shepherd, Boone, his abuser will not be allowed near him, nor any other dogs for that matter.
Sadly, this is the second officer to be caught on camera abusing their K-9 partner. The Free Thought Project broke the story of a Hammond, IN police officer who was fired after cell phone footage caught him suspending his dog by the neck.
One of the known warning signs of certain psychopathologies, including antisocial personality disorder, also known as psychopathic personality disorder, is a history of torturing pets and small animals, a behavior known as zoosadism.
According to the New York Times, "the FBI has found that a history of cruelty to animals is one of the traits that regularly appears in its computer records of serial rapists and murderers, and the standard diagnostic and treatment manual for psychiatric and emotional disorders lists cruelty to animals a diagnostic criterion for conduct disorders.
"A survey of psychiatric patients who had repeatedly tortured dogs and cats found all of them had high levels of aggression toward people as well, including one patient who had murdered a young boy."